Cheap Road Trips Across America
As gas prices continue to remain low compared to their highs of a decade ago, it might be a good time to consider taking a road trip.
Road trips don't have to be long, expensive cross-country experiences. Why not find a short route within your state or neighboring state, pack a picnic lunch and be on your way?
Here are a number of cheap road trips across the U.S. that offer beautiful views and allow you to drive them in one day if you prefer. Explore the estimated cost of gas and the main attractions along the way.
Also, check out the tips on how to road trip cheaply and download free printables to keep the whole family entertained when you've been in the car for hours.
Blue Ridge Parkway (Virginia; North Carolina)
Wedged between Shenandoah National Park in Virginia and Great Smoky Mountains National Park in North Carolina, the Blue Ridge Parkway offers an up-close look at the diverse animal and plant species along the Appalachian Mountains.
There are plenty of geographical wonders along the way, like Mount Mitchell, the highest mountain peak in the eastern U.S.; New River, the oldest river in North America; Linville Gorge, the deepest gorge east of the Grand Canyon; and Whitewater Falls, the highest waterfall east of the Rockies, according to the Blue Ridge Parkway Association.
In addition to exploring nature, you can also check out Monticello, the home of President Thomas Jefferson; Biltmore Estate; and the Birthplace of Country Music Museum, among other attractions, on this 469-mile road trip.
Distance:

469 miles
Estimated Gas Cost:

~$25*
*Note: All gas cost estimates in this blog post come from GasBuddy and are based on cars with 12-gallon tanks that get 25 miles per gallon. The estimates reflect June 2020 gas prices.
Davis Mountains Scenic Loop (Texas)
Drive 8,000 feet above sea level along Texas's loftiest public highway, according to Texas Highways. Stop to take in the lush greenery on the side of the road or pack a picnic lunch to eat at one of the several stops along the 75-mile loop.
Along the way, you can also visit and tour the McDonald Observatory. The astronomical observatory sits atop Mount Locke and Mount Fowlkes and offers views of some of the darkest night skies in the continental U.S., according to the observatory.
Distance:

75 miles
Estimated Gas Cost:

<$10
Door County Coastal Byway (Wisconsin)
Explore Wisconsin's Door Peninsula on this scenic loop that features three state parks, 10 county parks and several lighthouses along the way. Stop in one of the many towns along the way that sit on Lake Michigan.
Door County, also known as the "Cape Cod of the Midwest," is known for its traditional fish boils, cherry pie and specialty lakeside shops. Along the way, you might visit Al Johnson's, a restaurant that keeps goats on its roof; bike through Peninsula State Park; or take the ferry to Washington Island.
Distance:

66 miles
Estimated Gas Cost:

<$10
High Road to Taos Scenic Byway (New Mexico)
Go back a few hundred years on this 105-mile drive past several Spanish colonial landmarks. You begin the trip at San Francisco de Asis Church in Ranchos de Toro. The national historical landmark was built in the late 1700s and into the early 1800s and remains one of the most frequently photographed and painted churches, according to the town of Taos.
You can also visit Plaza del Cerro, a fortified village founded in 1730 and the only such village still around in New Mexico, according to the Society of Architectural Historians.
The journey ends in Santa Fe, which was founded in 1610 as the capital of Nuevo México and remains the oldest capital city in the U.S. While there, enjoy the city's rich arts scene and beautiful architecture.
Distance:

105 miles
Estimated Gas Cost:

<$10
Highway 101 (Oregon)
Watch the Pacific Ocean wash up against Oregon's coast on this 363-mile journey between the California border and Astoria, the oldest American settlement west of the Mississippi River, according to Oregon Coast Travel.
Notable destinations along the way include the Tillamook Creamery; the town of Cannon Beach, which is famous for its sandcastle contest and its Haystack Rock structure; the Oregon Coast Aquarium; the Umpqua Lighthouse; and a number of state parks.
Distance:

363 miles
Estimated Gas Cost:

~$32
National Scenic 7 Byway (Arkansas)
This manageable 290-mile drive starts near the southern border of Arkansas in El Dorado, a town that sat at the epicenter of an oil boom in the 1920s. It continues through pine and hardwood forests to the Ouachita Mountains.
After zipping through the Ouachita National Forest, the road crosses into the Ozark Mountains and the Ozark National Forest where you can stop to admire the "Grand Canyon of the Ozarks." The trip ends in historic Harrison, where you can tour the historic Lyric Theater, Boone County Courthouse and Hotel Seville or visit area art galleries and antique shops.
Distance:

290 miles
Estimated Gas Cost:

~$16
Park Loop Road (Maine)
If you find yourself in Maine's Acadia National Park, you'll also find yourself on Park Loop Road, the park's main route. The 27-mile road begins at the visitor center and leads you to many of the park's must sees, including Cadillac Mountain, Sand Beach and Jordan Pond.
Most of Park Loop Road is one-way, and there are several lookout points along the way. You'll need to pay an entrance fee of $25 per vehicle or go on a fee-free day, which includes Martin Luther King, Jr. Day, April 21 (the first day of National Park Week), September 22 (National Public Lands Day) or Veterans Day, according to the National Park Service.
Distance:

27 miles
Estimated Gas Cost:

<$5
Acadia National Park Entrance Fee:

$25/car
Sierra Vista Scenic Byway (California)
This almost 100-mile route snakes through the Sierra Nevada Mountains and offers excellent views of granite peaks, rock formations and diverse plants and animals. The byway opens for the year once snow has melted and crews have cleared the roads. Typically, the best time to visit is between July and October, according to the Sierra Vista Scenic Byway Association.
Along the byway, check out Jesse Ross Cabin, a structure built in the 1860s; Nelder Grove, home to the Bull Buck, which is one of the largest and oldest trees in the world; Mammoth Pool, a beautiful man-made lake; and the Jones Store, a fixture known for its tasty hamburgers and pies.
Distance:

~90 miles
Estimated Gas Cost:

~$11
Tunnel of Trees (Michigan)
Drive along the shores of Lake Michigan under a dense canopy of hardwood and evergreen trees. Every so often, enjoy breaks in the "tunnel" where you can spot Lake Michigan below.
The trees are beautiful in any season but especially so in the fall as they explode with color.
The 20-mile journey passes by several local shops and restaurants and includes sharp twists and turns at Devil's Elbow and Horseshoe Curve.
Distance:

20 miles
Estimated Gas Cost:

<$5
385-Gold Rush Scenic Byway (Nebraska)
At one point, gold prospectors moved more than $200,000 worth of gold along this route every day, according to the Nebraska Tourism Commission. Relive that history on this hilly 131-mile journey from Chadron to Sidney.
Along the way, check out Carhenge, a replica of Stonehenge that uses 39 vintage American cars, and Courthouse and Jail Rocks, the remnants of an ancient plateau that served as an important marker on pioneers' journeys west.
Distance:

131 miles
Estimated Gas Cost:

~$11
If one of these short road trips isn't easily accessible, check out these tips for road tripping on a budget, no matter where you go.
How to Road Trip Cheaply
Perhaps the cheapest way to road trip is to plan: what roads will you take, what will you see and when, what will you eat and where will you stay. Here are some other ways you can shave a few dollars off of your road trip budget.
Drive the speed limit:

Rapid accelerating and braking can decrease your gas mileage by up to 30% on highways and up to 40% in stop-and-go traffic, according to fueleconomy.gov.
Stop and park:

At the same time, in a national park or other attraction, don't idle your car as you pause to take in the scenery since that also reduces your gas mileage, according to fueleconomy.gov. Instead, find somewhere free to park and observe the scenery from there.
Consider a rental car:

If you drive a fuel-inefficient car or face maximum mileage constraints on your leased car, you might consider renting for your road trip. Compare and save on rental cars and get money back with these

Rentalcars.com deals.
Be strategic about dinner:

If there's a restaurant along the way that you'd like to try, consider eating breakfast or lunch there, which are typically cheaper meals than dinner.
Avoid holiday weekends:

Consider traveling during off-peak times (weekdays and non-holidays) so that you don't pay an increased demand surcharge.
Fill up off the beaten path:

Convenience matters. That's why gas stations right off of the highway can be more expensive than gas stations that are out of the way. Use online tools like GasBuddy to find the cheapest gas prices along your route.
Create your own tours:

It might be tempting to pay for a trolley tour around town or a guided walking tour of a historic district, but you can save the extra money by making your own tour. Search the tour destinations online and create your own itinerary.
Don't forget the visitor center:

Visitor centers not only welcome you to new areas; they typically also provide coupons and other free materials.
Someone's bound to get bored along the way, even on short road trips. Here are some free printable activities for the car ride to cut through some of that restlessness.
Free Road Trip Printables for Kids
Ever tried drawing in a moving car? It's pretty difficult. Hold a moving car doodle contest in which each person tries to draw the specified object in a given time period. Reward the winner with a special prize (maybe an ice cream treat or control over the road trip music playlist).
Download the bumpy car doodle contest printable.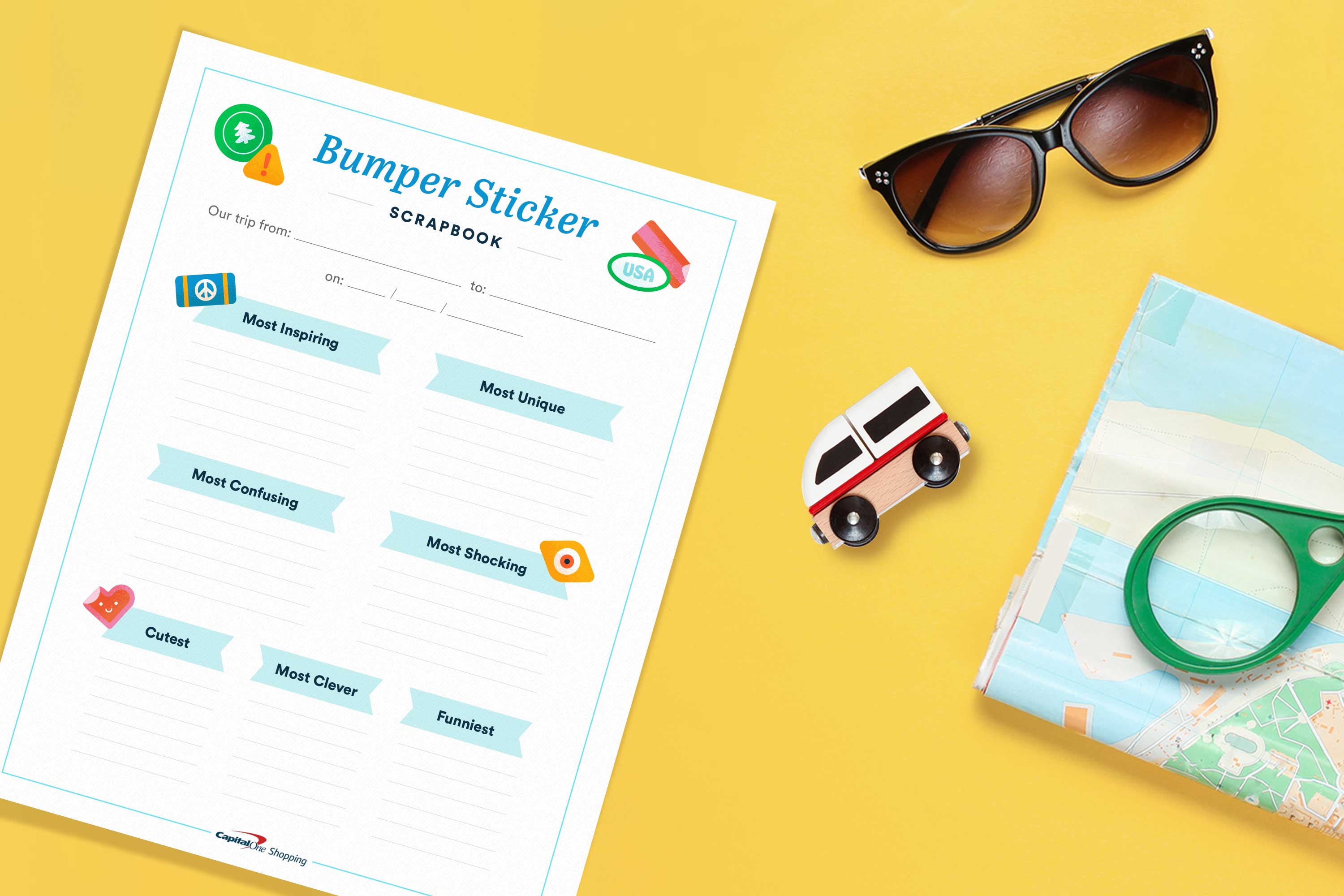 In this road trip game, be on the lookout for interesting bumper stickers on other cars. Fill out the bumper sticker scrapbook page and have a record of what you saw along the way.
Download the bumper sticker scrapbook printable.
Remember that road trips don't have to be expensive. Take advantage of the short day trips offered in your state, as well as these free printable activities to keep everyone engaged and interested. If you'd like to give your car a little TLC before your road trip, check out these Goodyear and AutoZone coupons and deals for significant savings.
We hope that you found this blog helpful. Our content is not intended to provide automotive maintenance, travel or financial advice. For specific advice about your unique circumstances, consider talking with a qualified professional. Capital One Shopping does not endorse or guarantee any information or recommendation listed above.