10 Steps for Throwing a Dog Birthday Party on a Budget (+ Free Printables!)
August 17, 2020
Some of the merchants listed in this blog pay us a commission when you make product purchases using the links we provide.
Your little buddy is another year older — or seven years older according to dog years. Get that tail wagging with a dog birthday party. Instead of balloons, piñatas and goody bags, it's going to be bones, peanut butter and doggy bags.
It's time to get planning, but looking into those darling eyes, it's almost impossible to draw a line when it comes to spending.

How can you say no to that face?!

The answer: have a plan.
It's easy to

roll over

and end up buying the entire aisle of bones to make your pup happy. This guide will ensure that your dog has the perfect party without breaking the bank. We suggest checking out these

PetSmart coupons and discounts to save extra money, plus we'll share recommendations for how to use those small purchases to cover everything you need for a successful celebration. So, to avoid a snarky bark, shop smart! Let's get started or you can see some printables for the party below.
*Due to COVID-19 restrictions, if you can't meet in person for your dog's big day, these printables make for an excellent virtual celebration as well!
1. Create a Budget
A

pawesome

dog party starts with the not-so-pawesome process of creating a budget.
There are a couple of questions to consider during the budgeting step. First, how big do you want this dog party to be? Will it be an intimate family gathering? Or are you planning on a raise the

woof

rager?
When budgeting, consider how many guests you plan on providing for. Check out this handy guestimator, which estimates how much food you need based on the number of party guests. It's important to note that this calculator is for humans, so it should be adjusted according to the nutritional needs of dogs. PetSmart's dog resource center includes a section for nutrition. Check it out to help ensure the food you provide is not only yummy, but also healthy.
Speaking of food, your budget will vary based on whether or not you plan on making the treats yourself or buying premade treats. If you're looking to be the most cost-effective, a premade cake is the way to go.
Luckily, entertainment isn't a huge factor to consider for dog parties. For the most part, dogs can entertain themselves with nothing more than a backyard, some frisbees and some friends. For more on party activities, jump to our "Setting the Guest List" section.
You also want to consider decor, goody bags and presents! For decor, it's helpful to buy an all-inclusive themed party pack — this way, you don't have to go hunting for individual pieces. We suggest this cool dog (hot dog?!) party pack from Amazon. Save even more with these Amazon coupons and discounts.
Budget tip:

Check out party budgeting resources like this

party cost calculator to determine how to allocate your budget for food, decor, entertainment and the other factors that go into the grand total.
2. Make Your Checklist
The secret to throwing any party, not just a dog party, is to make a checklist. Any professional event planner would agree that organization is the key to a stress-free party.
Checklists are helpful in keeping your expenses on track. They will help make sure you get the things you need without getting the things you don't.
It'll also ensure that you stick to your timeline. Once you make your checklist, add due dates next to each of the tasks. Add these dates and tasks to your personal planner or Google calendar and set a reminder for them. This will save you from last-minute shopping, which can be crazier than a dog chasing the mailman!
We suggest making one master checklist with the following:
Set date and time
Choose location
Pick theme
Supplies
Presents
Food and beverages
Activities
Invitations and guest list
RSVPs
Music
Budget tip:

Make one big master checklist with all your tasks so that you can assess things on a high-level and cut any excess costs. Make deadlines for the tasks and add them to your calendar to avoid last-minute shopping.
3. Set the Guest List
Bandit, Buddy, Rover, Fluffers, Tito and the rest of the whiskered gang from the dog park are a must-invite. Some dogs are more social than others, some prefer human company over that of fellow dogs, and for other dogs, the more butts to sniff the merrier, so think about what company your dog would like best.
You also want to assess any risk. Will having too many dogs cause damage to your property or the venue? Or if you know one dog has a really bad habit of biting strangers, put them on the no-invite list. This is your dog's birthday party — you don't want to incur any damage costs.
Once you mitigate any worst-case-scenario expenses, making a guest list requires no cost. Take out a pen and paper, sit down with your pooch and discuss.
Budget tip:

Choose your dog's friends wisely. Don't invite dogs that aren't trained to avoid any injury risk and the legal and financial fallout of that.
4. Choose a Location
Does your dog like the park or are they more of a stay-at-home type? Does the weather call for an outdoor or indoor party? If you're planning to have your party in the backyard, is it big enough? Are you okay with cleaning up any surprises that

pawty

guests leave in the lawn?
These are some questions to ask yourself when deciding on the location of your pooch's party. Also, consider the size of your guest list — you don't want 101 dalmatians running around the living room!
If space is limited, then you may want to host the party at a local dog park, dog beach, dog water park, an agility center or even a club!
If you chose to have the party at a location that isn't your house, then there may be a cost associated. Public parks are typically free to use, but if you want to reserve a special time for your dog's party, then you want to contact your city council.
Other places, such as an agility center or dog club, may charge a fee. Ask if the fee covers decorations and party supplies. If it does then you may want to consider it, especially if you don't have a roomy backyard or a nearby local dog park.
Budget tip:

You don't want to spend on the venue and the decorations — pick one or the other. If you're in your backyard, spend on decorations to elevate the venue. If you pick a rental space, ensure that they provide decorations and supplies so you don't have to spend on that.
5. Pick a Theme
There's something about themed parties that make the occasion that much more special. And with a dog party, the room for creativity and imagination for party themes is endless. A Hot Diggity Dog Cook-Out? A Pupcorn Movie Night?
Fur-tunately

for you, we've found some cute party packs for themed celebrations. Check out these supplies for a

spotted 101 Dalmations Party and signs and decor for a hot diggity dog party.
A great theme and challenge is also a "Doggie Discount" party, where you throw your dog a party with the things you already have and on-sale items only! Both your dog and your wallet will enjoy this fun and cost-friendly idea. Definitely add these $5 Milkshake-Flavored Treats from Bocce's Bakery to your cart!
Budget tip:

Throw a "Doggie Discount" party using only recycled party decorations or discounted ones. Your dog won't know the difference between brand new and old party hats. Look around your house and see what items you can make into decorations. Old Halloween costumes, holiday wrapping paper and human birthday party decorations can be recycled to elevate your dog's birthday party.
6. DIY Decorations
If you're crafty, making decorations for your dog's party can add that special touch. It also makes customizing so much easier — you can plaster your dog's name everywhere, so everyone knows who the real birthday king/queen is instead of buying generic decorations.
Think outside of the box here. Humans like streamers, party hats and balloons, but what will dogs like? Maybe a cardboard cutout of the mailman, or stuffed animal bunnies or squirrels to chew on. Let your imagination run wild when thinking about decorations, but not too far because you're going to be the one making them.
Here are some decoration ideas that will also keep your guests entertained:
Use a permanent marker to write your pup's name on tennis balls for the dogs to play with during the event.
Fill up a bucket with water and put some treats in the makeship pool for bobbing for biscuits.
Make a cardboard cutout of your pup's favorite thing to chase.
Get some string and beads and make little bracelet "leashes" to use as name tags for the table.
Print out and construct a puppy crown to celebrate the birthday pup. Treat your puppy like the king or queen they are. Tape the long strips of paper to the sides of the crown and hole punch to add string. Be sure to snap plenty of pictures of the royal highness! Download the puppy bone crowns.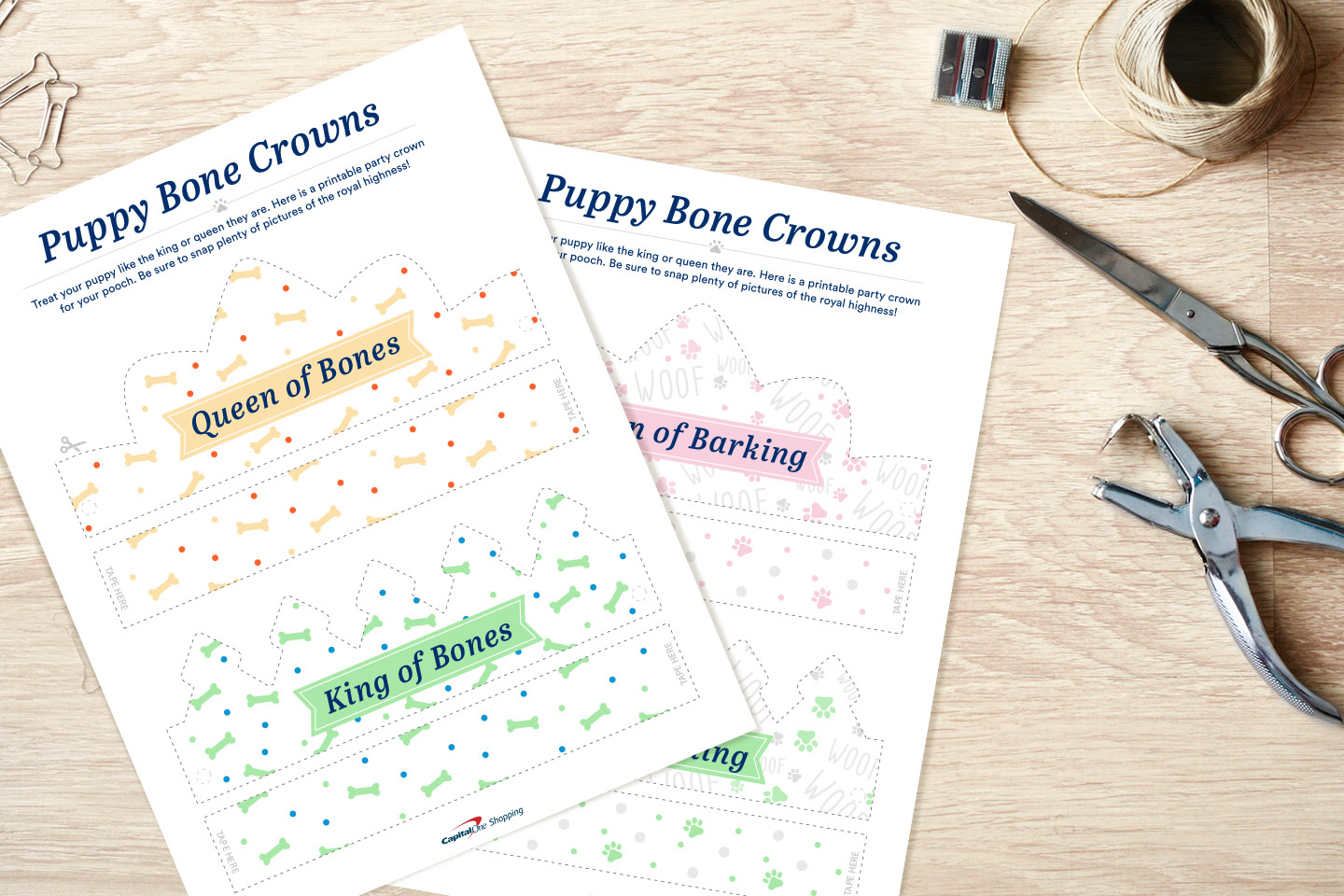 Budget tip:

Make your own decorations. You don't have to be crafty to pull off these DIY party decorations. It'll save you money and add a touch of personalization to your party!
7. Send Out Invitations
Invitations make everything official. Nowadays, professional-looking invitations can be sent out online as evites, or through the mail for a low cost. Some invitation services also offer RSVP tracking to make the party planning process seamless.
If you're going the paper-saving, online route, take advantage of these Evite coupons and discounts, which can get you up to 15% off. Email invitations are also a great opportunity for some funny subject lines to get your friends howling with laughter.
It's easy to get caught up in the design of the invitation and forget about the important information guests need. Make sure to include the date, time, location, attire, things to bring, length of party, reason for occasion, RSVP date and anything else you want to include.
Use this cute invitation template to send to your guests. You can download it, fill in the information and send it out digitally or print it out and mail it to your furry guests!
Budget tip:

Email invitations are cheaper and easier. While there are a lot of email invitation services out there, composing a new email, attaching a downloadable invitation and sending to your guest list is just as effective!
8. Figure Out the Food
Just as humans celebrate over a meal, dogs also want food to be a part of the party — a significant part. In thinking about food, you want to consider the time of day, the length of the party, and whether or not you will provide food for the human guests as well. Perhaps all your celebration needs is a cake (see section 1), or maybe you're going for an all-out feast.
You can also use this cookie cutter from Bed, Bath and Beyond coupons and discounts to make your food into the shape of bones. It'll make your dog happy and it'll make your guests drool over your decoration skills and party aesthetic!
Budget tip:

Dogs are easy, they don't need gourmet food. Cook pet-friendly recipes that will also make for human food.
9. Curate Your Playlist
"Who Let The Dogs Out" by Baha Men is a must. Also, Elvis Presley's "Hound Dog."
Feel free to customize the playlist with songs that fit your dog's personality and modify it according to the length of the party.
There's no need for a speaker. According to the American Kennel Club, the world is a noisy place for dogs — even when things are seemingly quiet, they can hear high-frequency sounds. Music on low volume is loud enough for your pooch.
You're going to want to sing "Happy Birthday" to your pooch before opening presents or eating cake. However, your dog may want to hear the happy birthday jingle multiple times throughout their big day.
Budget tip:

Dogs have incredible hearing, so there's no need to buy a speaker. Playing music off your phone or computer will do the trick!
10. Create Budget-Friendly Activities
Fur

the most part, dogs can entertain themselves. Leave them out in the backyard or in a big field for a couple hours to run around and they'll be all set. However, there are a few additional activities that will take your dog party to the next level.
Remember you don't want dogs running around crazy. Pick one activity you know your dog will like instead of trying to fit in multiple activities and losing control.
One way to do this is with a dog photoshoot! If you have a hard time keeping your dog still and need to tempt them with some treats to sit and stay, these quick and easy Milk Bones are perfect. To really make the party memorable, use an instant camera and give the pictures out as a part of a goody bag. This Instax pack from Amazon comes with an Instax camera, a 40-sheet film pack and even a selfie lens.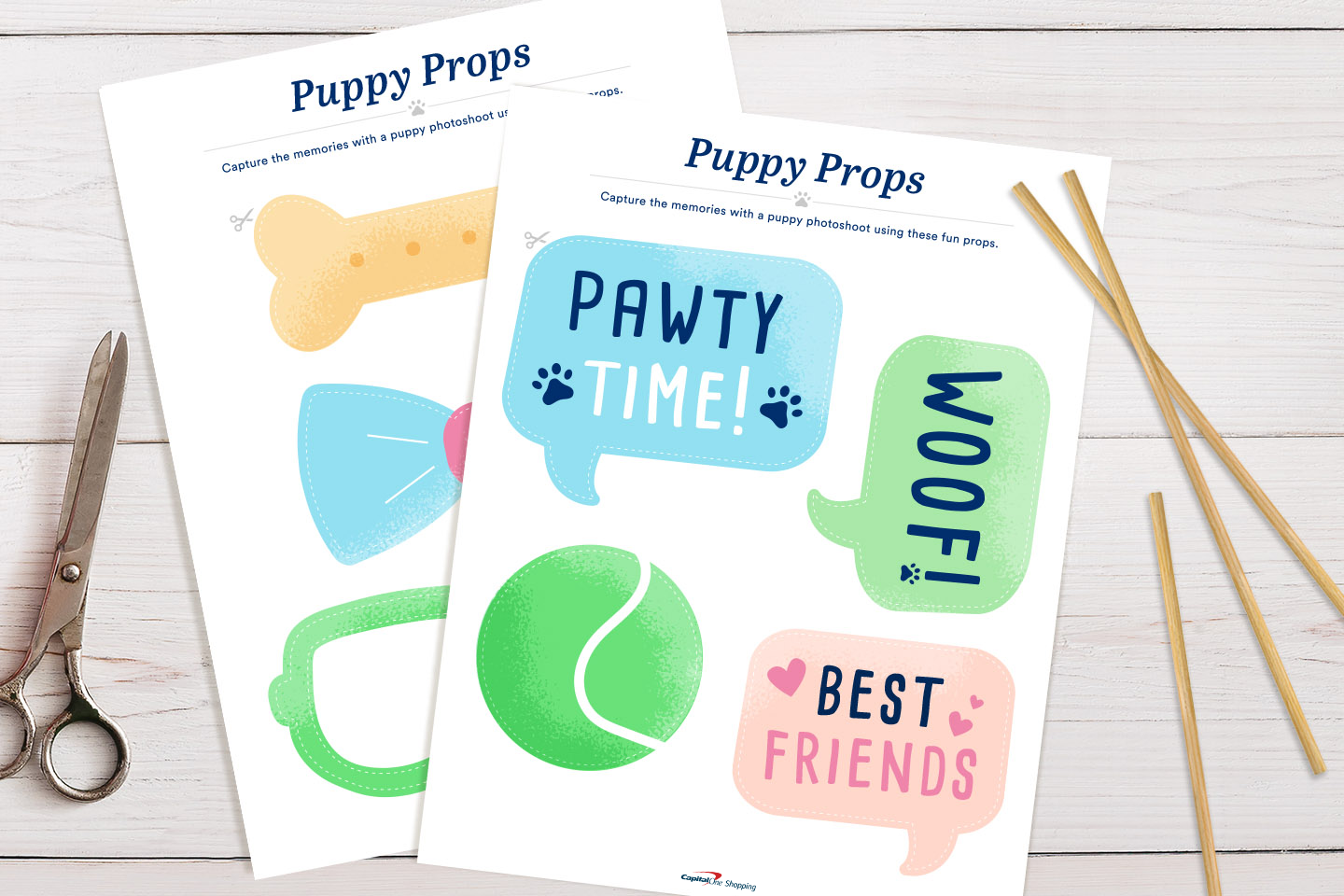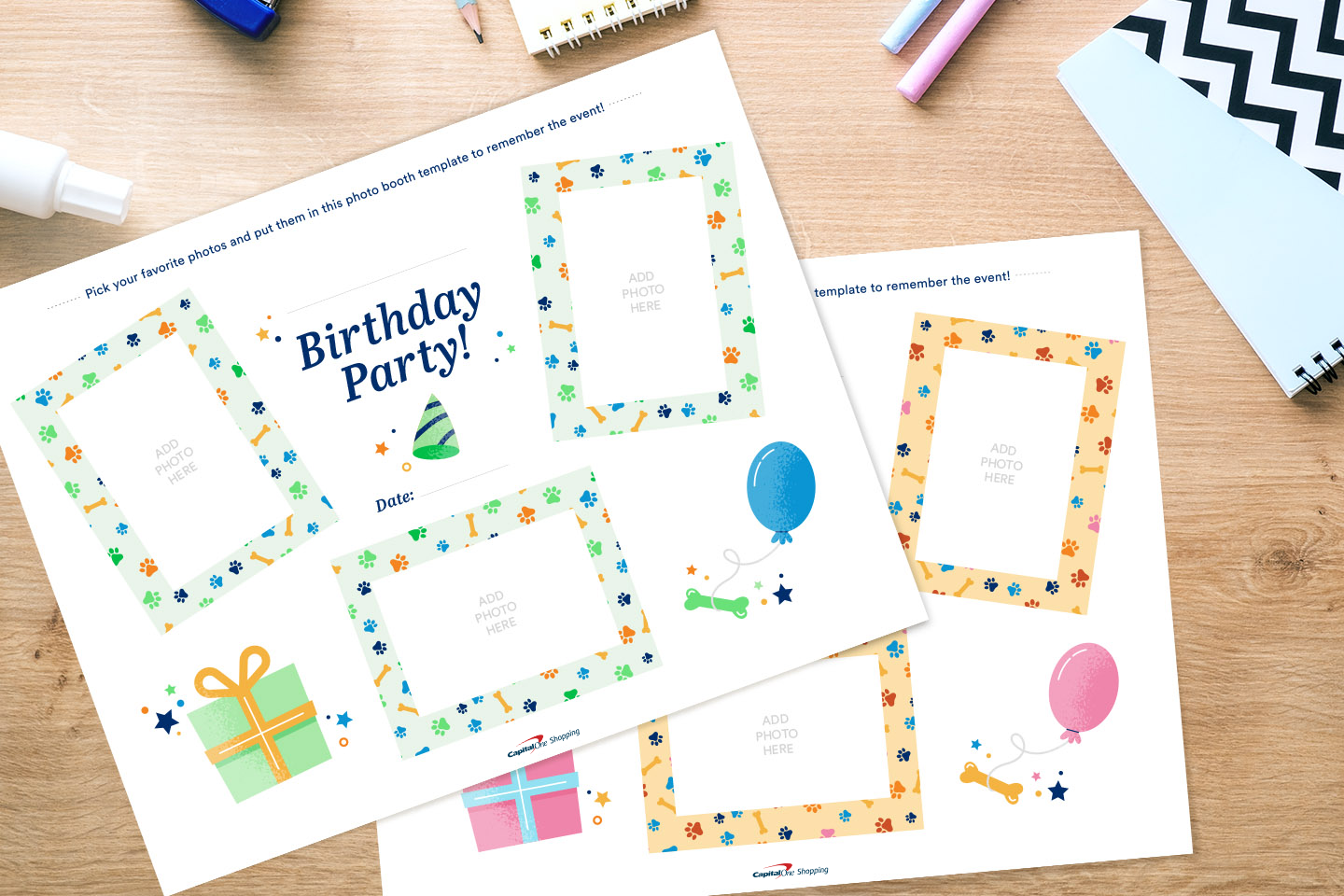 If you have a really active dog put together a tennis ball-pit! Collect a bunch of old tennis balls and get some discounted new ones from PetSmart to make an epic tennis ball-pit. Your dog will be in heaven!
If digging is more up your dog's alley, think about making a time capsule. Put some special tokens of your dog into a shoe box, tape the lid and pick a spot in the yard for your dog to start digging. Bury the box and have him dig it up next year and make it a lasting tradition.
And of course, don't forget about the traditional activities — cut the cake, sing happy birthday, open presents and blow out the candles (although there may be a lot of slobber). Don't forget about a piñata — just don't make it dog shaped!
Budget tip:

You don't want to be juggling too many activities. If you're doing a photoshoot, piñata, movie and obstacle course, then you'll have dogs running rampant. Pick one activity that you know your dog will enjoy.
Quick Tips for Throwing a Dog Birthday Party on a Budget
Your dog doesn't understand the concept of money, but you certainly do. While you want to throw your dog the best party ever, you also don't want to spend money carelessly. Luckily, throwing your dog an epic birthday party is cheap, especially following these two ultimate tips:
Make use of discounts. Discounts can cut prices and

has plenty for every possible realm you need for your dog party — food, decorations, presents and more.
For dogs, a little can go a long way. Your dog doesn't need a lot to be happy. An open park, a tennis ball, a bone, some friends and a belly rub are really all you need to make your dog's birthday special.
The most important part of a dog party is to enjoy it. Take the stress out of party planning and financing by following this guide and taking advantage of

. Above all, be present with your pooches and have fun!
We hope that you found this blog helpful. Our content is not intended to provide financial or pet dietary advice. For specific advice about your unique circumstances, consider talking with a qualified professional. Capital One Shopping does not endorse or guarantee any information or recommendation listed above.