Mother's Day Freebies 2020 (+ At-Home Printables for Celebrating Mom on a Budget)
April 29, 2020
Some of the merchants listed in this blog pay us a commission when you make product purchases using the links we provide.
Your mom has likely always been there for you when you've needed her the most — when you had a bad day and felt like crying, when you needed a baking buddy, or when you just wanted a hug. This Mother's Day, it's time to show her how much she means to you.
You don't have to spend a lot of money to do that! Here are some excellent Mother's Day freebies and discounts at popular restaurants and retailers to celebrate Mom's big day the right way.
Staying inside? Here are some printables to glam up your home with decorations that your mom will love, as well as low-cost activities for your mom and the whole family to enjoy.
If you'll be away from your mom this May 10th, don't fret. Check out this list of the best deals on gifts you can deliver to your mom so that you can celebrate with her remotely. Select a freebie category, or skip to our printables.
*Due to COVID-19 closures, many restaurants will not sponsor their typical Mother's Day dine-in deals this year. However, be sure to take advantage of these excellent takeout and delivery deals!
Mother's Day Freebies and Deals: Delivered Gifts
Maybe you can't see your mom in person this Mother's Day, but you'd still like to send her some love. Here are some great deals on flowers, sweet treats and other goodies that will arrive directly on your mom's doorstep.
CanvasPop: Send your mom wall art to celebrate your favorite moments together. Save 55% on your order with the code LOVE4MOM and automatically be entered into a giveaway for $1,000 worth of wall art.
From You Flowers: Save anywhere from $11–$14 on a candy basket for Mom, or check out sitewide savings on flower bouquets. Also, check out other From You Flowers coupons for additional savings!
FTD Flowers: Impress your mom with a big bunch of colorful roses! Save $5 on FTD's set of 24 mixed roses and accompanying vase. Plus, check out these FTD Flowers coupons for more savings!
GiftTree: Give your mom delicious cookies as well as a healthier fruit option with this basket that also features a free Mother's Day decorative ribbon.
Mrs. Fields: If your mom appreciates sweet treats more than flowers, save up to 50% on certain baskets and tins with the Mrs. Fields Spring Sale. Also, check out plenty of other Mrs. Fields coupons for additional savings.
Olive & Cocoa: Personalize your gift for Mom with a birthstone charm necklace. The necklace comes in a wood crate and will be shipped for free for a limited time.
Stonewall Kitchen: Known for its jellies, jams, syrups and mixes, Stonewall Kitchen offers sizable discounts year round, including around Mother's Day, through its Barn Sale.
The Fruit Company: Certain gift boxes, like "Oregon's Finest Gift Box," which includes chocolate covered cherries and blueberries, chocolate pretzel rods, Fuji apples and Columbia green pears, will be shipped for free.
The Popcorn Factory: Maybe your mom can't decide between salty and sweet. Give her a "Super Power Mom" popcorn tin and receive free ground shipping with the promo code WITHPOP. Plus, check out additional The Popcorn Factory coupons.
Mother's Day Freebies and Deals: Restaurants
Nothing says "I love you, Mom" like a delicious meal. If you're not much of a cook or would like to skip the hours spent in the kitchen this Mother's Day, surprise her with any one of these attractive deals. Remember to call your local restaurant to explore their takeout and delivery options.
Baskin-Robbins: Last year on Mother's Day, the speciality ice cream shop offered free one-ounce samples of ice cream with waffle cone chips, as well as $3 discounts on certain cakes. Check back closer to Mother's Day 2020 to see what Baskin-Robbins has in store this year.
Beef 'O' Brady's: The family sports restaurant, known for its Buffalo chicken wings, allows moms to eat free on Mother's Day (for meals valued up to $10).
Bonefish Grill: Treat your mom to seafood or steak with Bonefish Grill's annual offer of a free $10 gift card when you purchase $50 in gift cards.
Chili's: Your mom and you can enjoy the Chili's 2 for $25 deal, which includes an appetizer, two entrees and a dessert. The restaurant also features a $5 margarita of the month every month.
Corner Bakery Cafe: Last year around Mother's Day, Corner Bakery Cafe offered a free entree with the purchase of an additional entree to all members of its eClub program. Check back closer to Mother's Day 2020 for this year's deal.
Culver's: The Wisconsin-born burger chain offers moms a free sundae or other frozen custard treat on Mother's Day every year. Check back closer to Mother's Day 2020 for the coupon!
Denny's: Every year, if you and your mom buy an entree at Denny's, you'll also receive a free dessert!
McDonald's: For many years, McDonald's has spiced up breakfast in bed by offering a free breakfast meal for Mom! Moms must be accompanied by their children to claim the deal.
Olive Garden: Give Mom more pasta this Mother's Day! When you buy her a $50 gift card, you'll get a bonus $10 gift card that you can use on to-go purchases through June.
Orange Leaf: All moms receive a free beginner cup of frozen yogurt at set price locations or $3.30 off at weigh and pay locations.
Panera Bread: The cafe traditionally offers $10 gift cards to be used in June when you buy $50 in gift cards.
Papa John's: Surprise your mom with a big heart-shaped pizza! The pizza chain typically offers a pizza and brownie discount combination. Check back closer to Mother's Day 2020 for this year's deal. Also, check out other Papa John's coupons for savings year round!
TCBY: Stock up on all of the chocolate chips, frozen raspberries and sprinkles you can eat because, every year, TCBY gives moms their first six ounces of frozen yogurt for free.
Tim Hortons: For the moms who run on very little sleep, Tim Hortons unveiled its free "Mom-sized" coffee on Mother's Day last year, a massive 52-ounce beverage. Check back closer to Mother's Day 2020 to see what freebies the coffee and donut shop will offer this year.
The Cheesecake Factory: The restaurant known for its wide selection and pages-long menu offers a free $10 gift card when you buy a $50 gift card in the week leading up to Mother's Day.
Wienerschnitzel: The world's largest hot dog chain helps moms celebrate their big day each year with a free Chili Dog Meal, which includes a chili dog, small fries and a small soda. Moms must prove "Mom-bership" by bringing their kids, showing a picture or telling an embarrassing story about their kids.
Mother's Day Freebies and Deals: Retailers
Maybe you'd rather buy your mom a non-food present. Whether you'd like to give her a new device or some new perfume, there are plenty of freebies and deals to help you impress your mom.
Anthropologie: Save more than $30 on a Mother's Day "Advent calendar" filled with beauty products valued at more than $100.
Bath & Body Works: The largest bath shop chain offers plenty of "buy 3, get 2 free" and "buy 2, get 1 free" deals for Mom on various shower gels, body creams and lotions, bubble baths, and fragrance sprays.
Bed Bath & Beyond: In addition to deals on individual items, Bed Bath & Beyond offers free shipping on orders that are above $39. Check out these Bed Bath & Beyond coupons for additional savings!
Best Buy: In addition to deals on individual items, Best Buy offers free shipping on orders that are $35 and above.
Jeulia: Save up to 70% on certain handcrafted jewelry pieces during the Mother's Day Sale. Also, check out additional savings with these Jeulia coupons.
Kay Jewelers: Receive an additional 20% off clearance items for your mom. Plus, check out additional savings with these Kay Jewelers coupons.
Over the past few years, Americans have spent an average of about $200 each year on Mother's Day, according to the National Retail Federation. That far exceeds average spending on Easter, which has hovered around $150 over the past few years, and St. Patrick's Day, which has hovered around $40 over the same time period.
Last year, more than half of Americans planned to treat their moms to a special outing. Of course, spending on those outings can really add up! If you'd rather celebrate at home — and have fun while doing so — check out these free printable decoration and activity ideas.
Free Mother's Day Decoration Printables
Who needs expensive decorations for your Mother's Day bash when you can make them at home? Check out our free printable photo banner and door knob gratitude notes to show your mom how much she means to you!
DIY Photo Banner:

Sure, you can go to the party store and buy a Mother's Day banner to hang over a doorframe or on the wall, but this photo banner's a lot more personal! All you need is a piece of string, photos with your mom, our printables and some imagination.

Download the photo banner printables here.
Gratitude Door Hangers:

Decorating your entire space can get pricey. Here's an easy way to fill your entire space without breaking the bank. Think of all the reasons you're thankful for your mom. Write them down on our printable door hangers and hang them on doorknobs around your home. Finally, send your mom on a scavenger hunt, or let her find them on her own!

Download the gratitude door hangers here.
Free Mother's Day Activity Printables
After you've decorated your home, you'll need something fun to do with your mom. Whether you like to bake cookies or you excel at family trivia, you'll enjoy these low-cost activities for your mom and the entire family.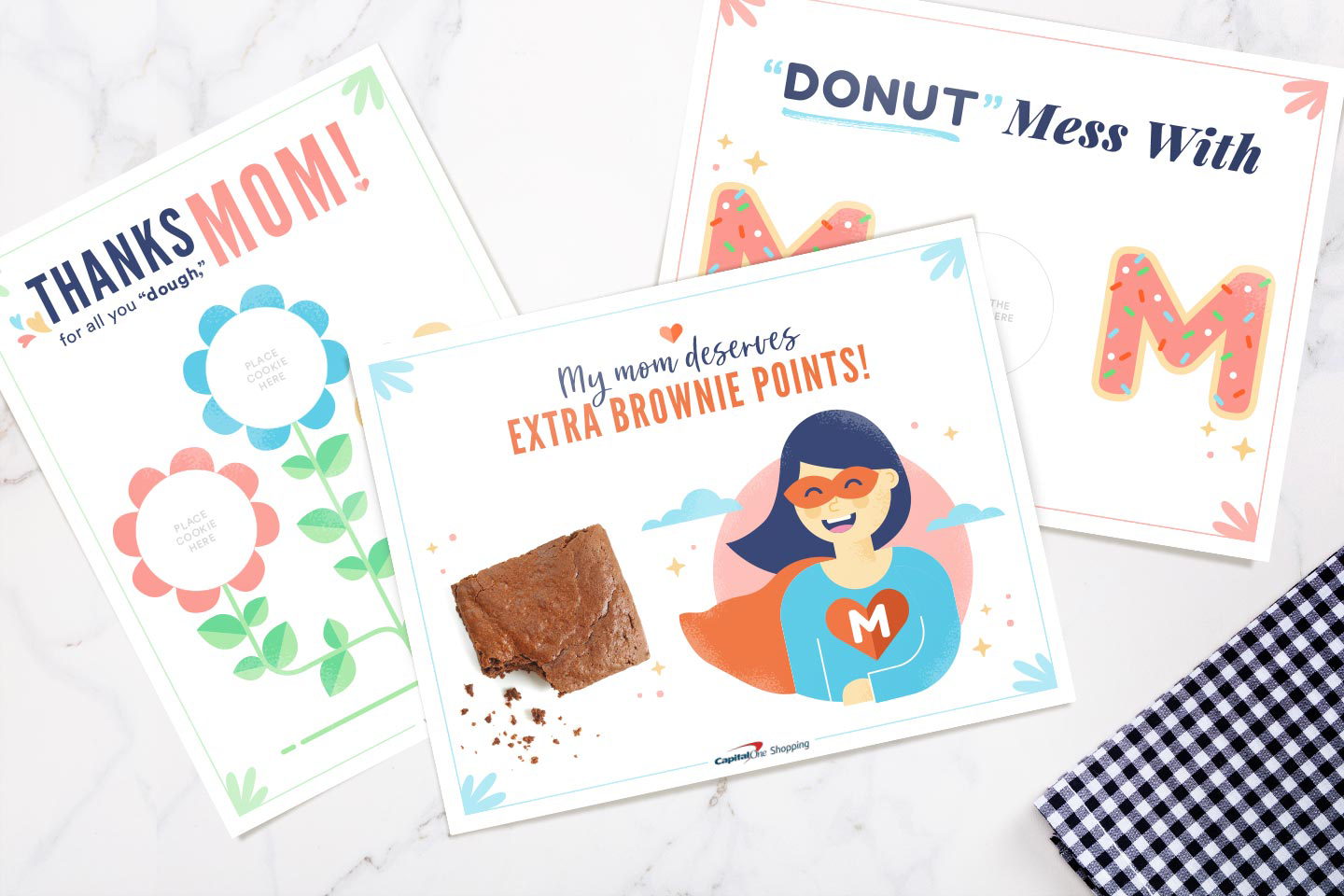 Decorative Baking Placemats

: Baking is always a Mother's Day favorite! Skip the expensive cake or bakery cookies and spice up your baked creations with these decorative placemats. Remember to take plenty of photos of your finished creations and encourage your mom to share them on social media!

Download the decorative baking placemats here.
Mom Trivia:

Your mom likely knows almost everything there is to know about you, but how much do you know about her? Put your knowledge to the test. This printable game is free and will likely lead to a number of interesting life stories, which are priceless!

Download the Mom Trivia printables here.
Giving your mom something special this Mother's Day doesn't have to cost a fortune! Treat her to a special meal and finish it off with a sweet snack using these Edible Arrangements coupons. Or, simply download the printable decorations and activities and give Mom the gift of your time.
We hope that you found this blog helpful. Our content is not intended to provide nutritional, relational or financial advice. For specific advice about your unique circumstances, consider talking with a qualified professional. Capital One Shopping does not endorse or guarantee any information or recommendation listed above.