What to Buy for College: 40 Must-Have Essentials
Some of the merchants listed in this blog pay us a commission when you make product purchases using the links we provide.
Americans impulsively spend $450

every month

according to

a recent study by Slickdeals. Add in the emotional stress brought on by going to college and you've got an enormous potential for impulsive spending.
In fact, the National Retail Federation estimates that, on average, households will spend over $117 on standard classroom supplies, nearly $136 on shoes, over $200 on computers and electronics and $240 on clothing, for a grand total of over $800 spent on back-to-school shopping.
Not to mention the overwhelming choices you have for school supplies. From planners and agendas to dorm decor, your cart fills up quickly. This begs the question almost all back-to-schoolers are wrestling — what is a

nice-to-have

and what is a

need-to-have

?
Classifying what's essential to buy for college will curb your emotional spending, saving you money and setting you up to clear the first hurdle of university life: moving in.
Also, as you go through the school year, be sure to check out these student discounts to save money not just on move in, but as a student in general. Keep reading, or jump to these handy college printables below.
Dorm Essentials
You dream of being independent, making friends, acing tests, finding your passion and all the other memories of college life, but when you arrive on campus and report to your assigned dorm room, it's an empty 250 square foot lot.
Dormitory rooms at colleges and universities usually average about 12-by-19 feet, which visualized is about two (six-foot) humans long and about three (six-foot) humans wide. It is a small space to begin with, and when you factor in the space your roommate needs, you are left with a 6-by-9.5 foot space.
Don't let the smallness deter you. The limited space only makes the process of picking out dorm essentials even more important. Consider this your first college assignment: designing your idyllic dorm room on a budget.
A dorm room bedding bundle.

Knock not one, not two, but nine birds out with one stone by buying

a comfort collection from Amazon. Included is a bedding and bath set with mattress pad, topper, pillows, sheets, towels, comforter and a laundry bag in more than 30 different styles. It's a win by both convenience and value standards.
Extra pillows

. Sleep is crucial for academic performance, making pillows almost as essential as pencils at college. The comfort collection from essential #1 provides two pillows, but you'll want to pack one more to make your new bed more comfy and add a flare of personality. Consider this

fluffy llama pillow from Urban Outfitters. For more savings, check out these Urban Outfitters coupons and deals.
Bedside shelf

. Dorms act as study, sleeping, snacking and socializing areas all in one, so organization is key. A bedside shelf is perfect to store things you use late at night and are too lazy to get out of bed and put away.
Bed lifts

. Every inch matters in a dorm room, so raising your bed for storage space underneath it is a good idea.
Coffee maker

. Campus coffee shops aren't open 24/7, but some nights you might be up around-the-clock. You'll need a coffee maker to start your day off right or to get you through a long night of work.
Clothing hangers.

Trying to fit your new college wardrobe into a tiny dorm room closet is always a struggle, but hanging your clothes can help. Get a pack of

regular clothing hangers for your shirts and blouses, and get a pack of clothing hangers with clips for your pants and trousers. This will make re-hanging things easy and prevent your floor from looking like your laundry bag exploded.
Storage bins.

For the miscellaneous things you'll undoubtedly collect during your time living in the dorm room, you'll need storage bins. You can neatly tuck away excess items that don't fit into your desk or closet in these bins.
A fan.

It's going to be hot and sticky when you first arrive on campus in September. If your dorm doesn't include air conditioning, you'll need to get a fan. You want to look for a fan that doesn't make a lot of noise and doesn't take up a lot of space,

like this one.
A foldable drying rack.

You don't want to go through washing your laundry only to find that you don't have anywhere to hang your wet clothes. Foldable drying racks are easy to store and quick to set up when it's laundry day.
Laundry detergent and a stain remover stick.

Laundry day can be easy or hard, depending on your supplies. Streamline tackling mounds of dirty clothing with laundry detergent and a stain remover stick.
Wall decor.

Spruce up your basic dorm room with posters, tapestries and framed photos of your favorite things. Remember to use easily removable hooks to prevent damage to the walls. Can't choose which photos to hang? Use them all in a photo collage.

Download the college photo collage printable.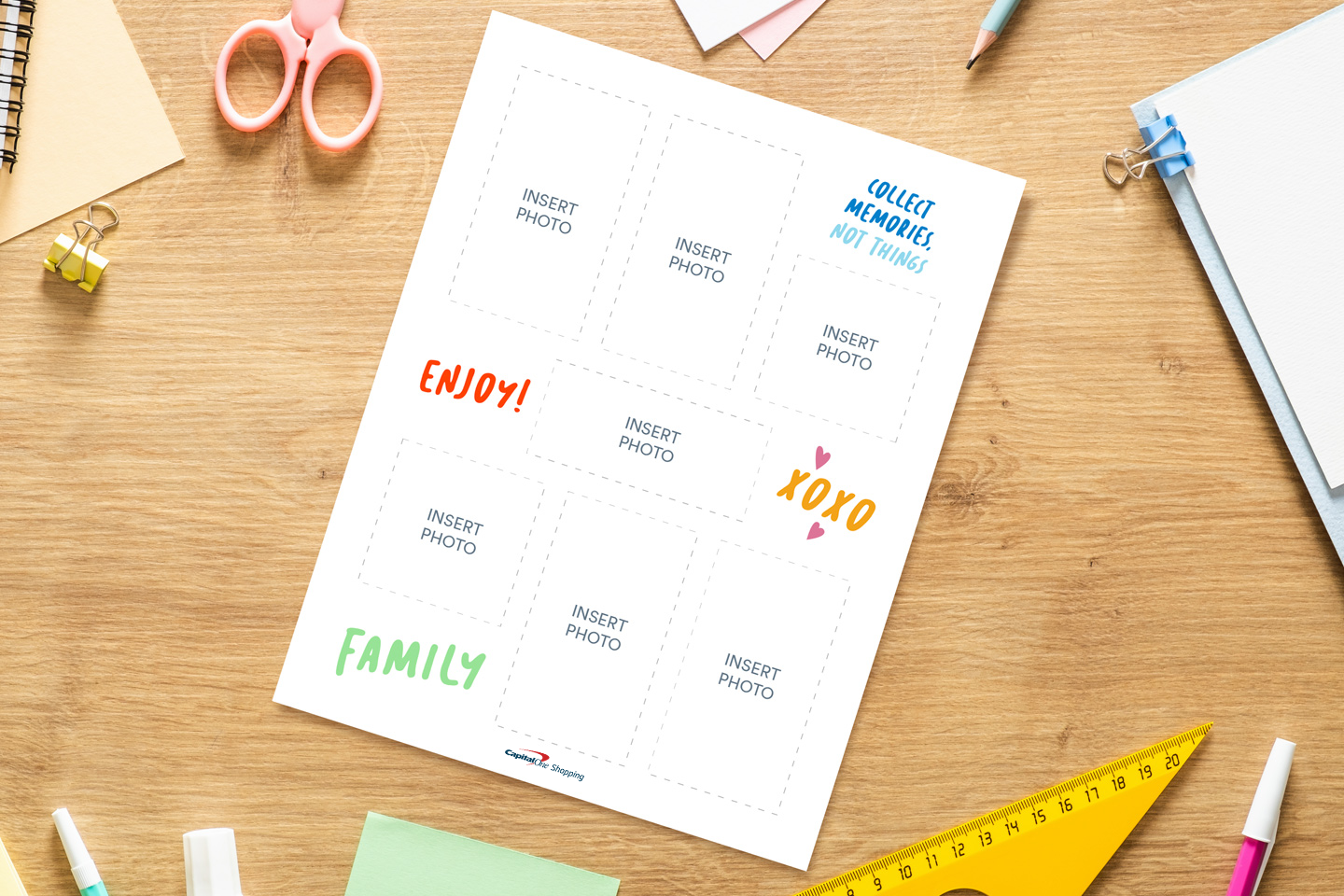 Microwavable bowls.

For heating up your go-to ramen noodles and mac and cheese — also college essentials, of a different sort — you'll need microwavable bowls.
Paper towels.

Pens will explode, you'll knock over drinks, and spilt food will leave stains. Buy bulk paper towels to keep handy. You can get them at Target using these

Target coupons and deals.
Air freshener.

Dorm rooms aren't known for their beautiful aromas. Living with hundreds of college kids gets smelly, so buy air fresheners in bulk to make sure your room smells like lavender instead of body odor.
Plastic bags.

Depending on your schedule, time between classes might not leave much room for full meals. Pack snacks in plastic bags to munch on throughout the day. Only one more question with this:

Cheez-Its

or

Goldfish

?
First aid kit.

Cuts, bruises and hangovers are part of being a college student. Part of being a

responsible

college student is having a first aid kit on hand ready for the accidents along the way.
An area rug.

Make your dorm as welcoming as possible by putting down a funky area rug. This is an opportunity to add some color, play around with patterns and cover up the drab dormitory flooring. Ruggable has an amazing selection and you can find

Ruggable coupons.
Trash can and trash bags.

You made it into college. You know how essential trash bags and a trash can are, so buy trash bags in bulk to be more cost-effective.
Command hanging strips.

Anything you put on your walls will need to come down at the end of the year. If you use nails or other mounts that damage the wall (even if it's just a scratch) you'll likely have to pay a fee. These easily removable

Command hanging strips are the perfect solution for anything you want to hang on your dorm walls.
A mini fridge.

The cafeteria won't carry all of your favorite snacks or drinks. Store Snickers bars, Hubert's lemonade or treats from your hometown conveniently in your own mini fridge.
Lighting.

Brighten up your room with decorative lighting. String lights, mood lighting or a simple desk lamp will help create a warm space. Make sure to purchase an extra bulb for whatever lighting you choose.
Business professional clothes.

Colleges host a lot of networking events that you'll want to attend. And you'll want to put your best foot forward, so make sure you have a professional outfit handy for when the time comes.
School Supplies
Don't be the student who brings boxes of high school awards and three luggage cases worth of shoes, but forgets a pencil and notebook for class. Many professors value preparedness for class, which of course includes the proper note-taking supplies, reading materials and a folder to organize handouts. These are our top recommendations to be fully prepared for the first day:
Textbooks.

Start off the school year right by being prepared. Get your textbooks as early as possible, but you don't want to buy a brand new one unless you have to. Jump to our section on

saving money on college essentials for solutions to shop smart when getting textbooks.
Index cards.

Based on a study from Dartmouth spaced repetition has proven to be an effective studying tactic. This means that interval learning, like going through index cards, is more effective for information retention. In short, index cards will help you study and ace assignments.
Desk organizer.

Papers and assignments will quickly stack up throughout the semester. An organized desk will be the foundation of your success.
A planner.

Organization doesn't have to be all deadlines. Planners are great places to put inspirational mantras, budding ideas, fun doodles or friendly reminders while also staying on top of the busy weeks ahead.
Notebooks.

According to the "

generation effect" theory, you're more likely to remember something if you write it down. Ditch laptop notes and get a notebook to improve your chances of committing information to memory. Having some sort of organization system for your notebook is super helpful.

Use the

printable definitions sheet to keep track of all the important terms.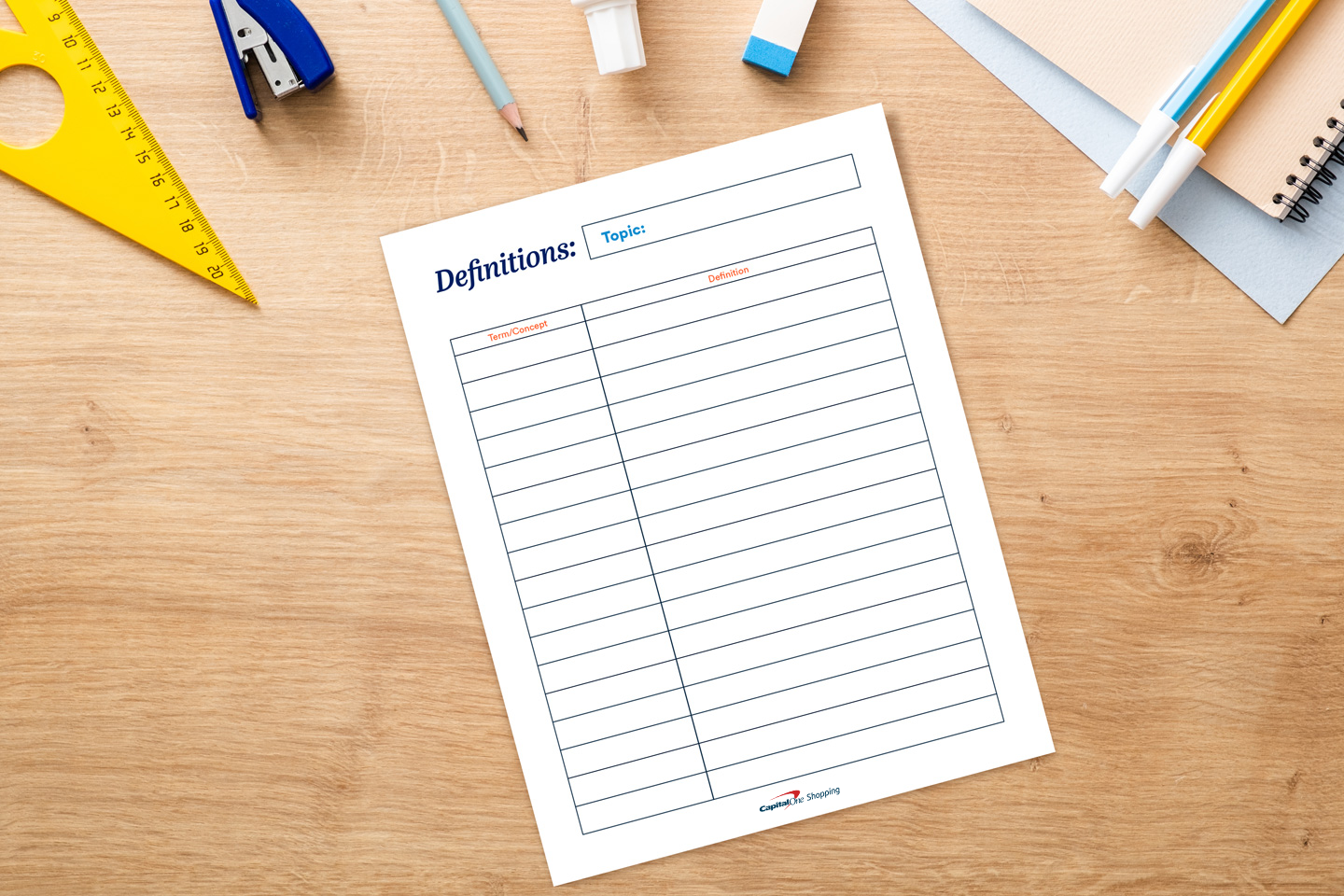 A backpack.

Going to college doesn't mean you graduate from using a backpack. Go for functionality first and style second. Check out these

L.L. Bean coupons for potential savings on this essential.
Pens and pencils

. Buy pens in bulk and in various colors. You'll want to use black and blue pens for writing assignments with a red one handy for edits. Use pencils for more numeric-focused classes.
Electronics
Pens and pencils may have cut it in the past, but now technology is a must-have. Your laptop will be all-important; it'll be where you can access your student portal for grades and class assignments, where you'll store your papers and presentations, and of course home to Google, which will come in handy when your professor's explanation is loaded with scholarly jargon.
Now, electronics carry a bigger price tag than traditional school supplies, which makes cost-conscious shopping even more important. Here's our round-up of budget-friendly tech supplies:
Laptop or tablet.

Whatever you choose to study, you'll need to do work online. Finding the right laptop or tablet for your area of study is a priority. It's better to invest now, knowing that it will get a lot of use over your college career, than using an old laptop that breaks halfway through the term, leaving you unable to finish assignments. Browse these

Apple coupons and deals to save on this essential.
A flash drive.

Some projects and assignments will require video, audio or large files that don't transfer well via email. Professors may ask for you to turn in some assignments with a flash drive, so prepare in advance and pack one.
Noise-cancelling headphones.

Silence is hard to come by on a college campus — even in the library, footsteps might disturb you as people shuffle down aisles. Noise-cancelling headphones will ensure the quietness you need to focus.
Phone and laptop chargers

. So common, yet so easily forgotten. Chargers are required for everyday life, but especially being away from home, you want to be able to connect with your family and friends. Be sure to label chargers so when you work in big groups, yours doesn't get accidentally swept up.
Miscellaneous College Supplies
When you go to college, you aren't just going to classes or meeting up with friends — you're living there. You need to prepare for the changing of seasons and weather conditions.
Also, you don't want to forget all the little things that you use every day. Remember that you will be showering, eating, exercising and doing pretty much everything on campus. So bring shower supplies, health essentials and personal comforts. Here are the extras we recommend:
Shower sandals

. Communal showers mean strangers' hair in the drain, so shower sandals are a must. You want to look for easy slip-on and slip-off ones, like

this pair.
Shower caddy.

Get a caddy and store all your shower essentials there for quick trips to the communal bathroom.
A toiletry bag.

Along with a shower caddy, you'll want to have a toiletry bag. Making trips to the bathroom will be a lot easier if you have all your toiletries in one place. Get a travel size one so when you decide to make weekend trips you can easily fit it into your luggage.
A HydroFlask. Between juggling homework, tests, studying, socializing, classes and extracurriculars, general self-care, like drinking water, might be cast to the wayside. HydroFlasks are portable, good for the environment and will make staying healthy easier. Plus you can decorate them with stickers from your hometown if you're feeling homesick.
A little succulent.

Depending on the location of your dorm, you might not have a view of nature. Succulents are great decor pieces and some even have health benefits, like improved air quality and stress reduction.
An umbrella.

Nothing says a bad day like walking to an early morning class in the pouring rain. Pack an umbrella and be ready for rain or shine!
Adhesive phone card holder.

You'll be getting a student identification card which gives you access to the dining hall, academic buildings and the library. Keep this card, and your other important information close to you at all times by stashing it on the back of your phone with an adhesive phone card holder.
Virtual College Must-Haves
Even if you're not attending college in-person, you still need to buy essentials to set yourself up for success at home. Here are seven must-haves for virtual learning:
Good Wi-Fi and a reliable computer.

Nothing is worse than troubleshooting technical mishaps live on a Zoom. Glitchy videos, lousy audio and dropped signals will leave you frustrated and unable to focus on the actual work assigned. Before the semester starts, assess your current Wi-Fi situation and computer set-up. If your Wi-Fi continues to be problematic, use virtual conference cards to communicate with you classmates.

Download the

virtual conference card printable.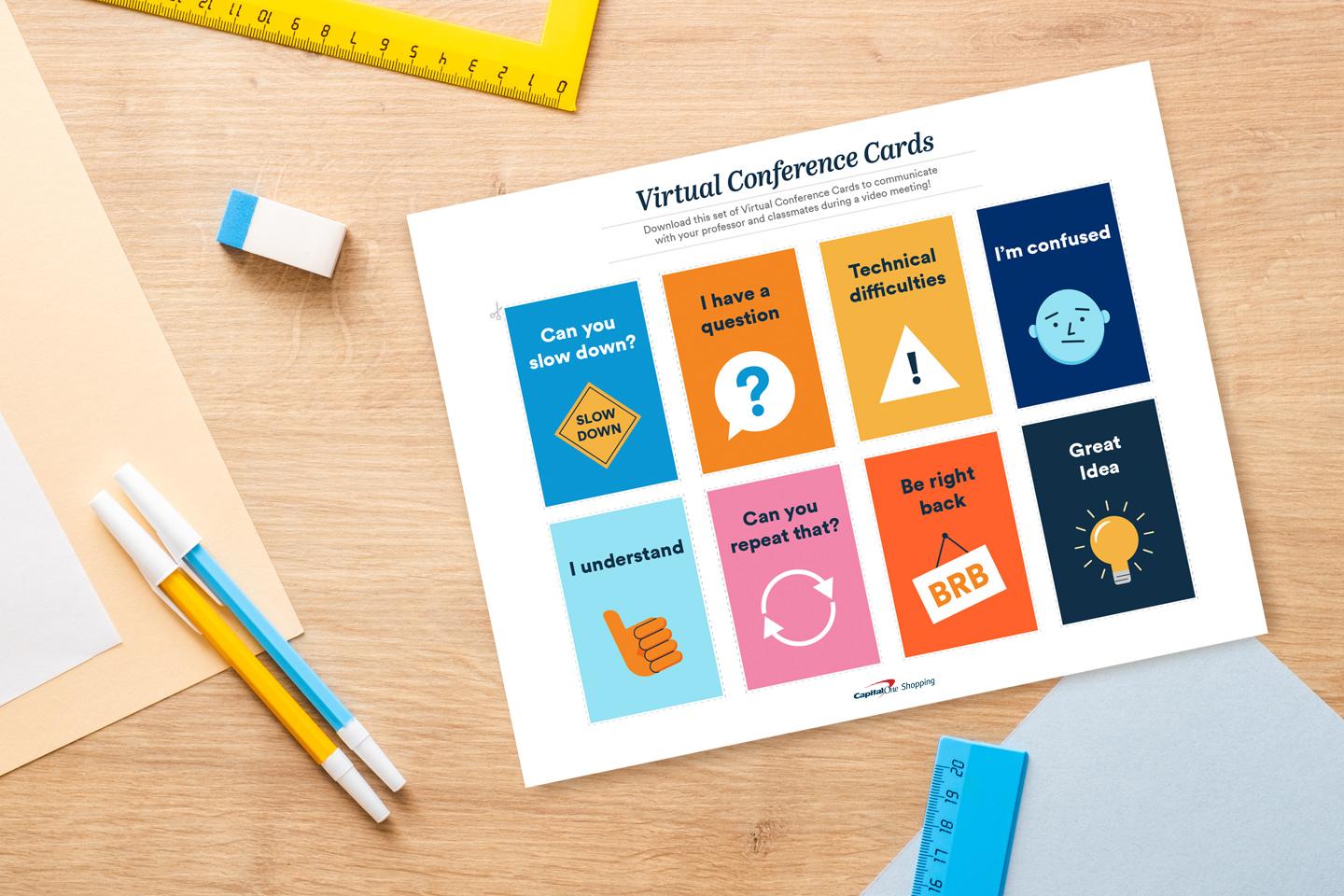 A comfortable chair.

Instead of moving from classroom to classroom, you're grounded in one place, so make sure it's comfortable. You want to buy a chair that you'll be comfortable sitting in for five to six hours on end. Do some research and read product reviews before your purchase.
An organized desk.

You don't want to be virtually learning from your bed. A big part of finding success is carving out an effective learning environment at home. This means having your own desk to report to when class starts.
A wall calendar.

It's tempting to fall out of a routine when you're working from home. There is less accountability with remote work, so you have to hold yourself to a schedule. This is why it's essential to have a wall calendar to reinforce important dates and have reminders to keep you accountable.
Basic software.

After you get your course schedule, you'll want to make sure you have all the necessary online applications. Understand your university's online learning portal (Canvas, Blackboard, etc.) to access key information on course announcements. Take note of any software programs you need to download prior to the course like Adobe, Microsoft Suite or video conferencing applications.
Headphones.

There are a lot of distractions at home — cats, dogs, brothers, sisters, moms and dads. Despite all the background noise, you're expected to stay focused. Drown out the distractions with noise-cancelling headphones.
Entertaining virtual backgrounds.

Similar to how you might decorate your dorm room with posters and personal photos, you'll want to personalize your workspace to add some positivity. If allowed, pick out a fun virtual background or change your computer screensaver as an energizer.

Download this

virtual background printable to virtually greet your peers on the first day!
How to Save Money on College Essentials
Once you have a list of the things you need to bring, it's time to find ways to save. Here are six tips to employ as you go out and check the above items off your list:
Buy in bulk.

College isn't a two-week vacation. Adapt a long-term mindset when you're shopping and stock up on the essentials. Buying in bulk is also important because once you get to college it might be hard to get to a store to restock on things like light bulbs, air freshener, paper towels, or extra sheets if you don't have access to a car.
Split the costs with your roommate.

Divide a few of the dorm essentials up between you and your roommate. Connect with your roommate before returning to campus and split the costs for bigger things like a mini-fridge or area rug.
Rent used textbooks.

Textbooks can be a sizable cost for only a semester's value. Try the following options before investing in a brand new textbook: rent a used textbook, borrow a textbook from a friend who has already taken the course or see if you can rent the textbook online.
Follow stores on Twitter & Facebook.

An easy way to find deals is to follow stores on Twitter and Facebook. Whenever they're running a promotional, they're likely to advertise it on social media, and it's best to be in the know.

Follow Capital One Shopping for coupons and discounts.
Shop when you know what you need.

Timing when you shop is important. If you go to the grocery store when you're hungry, you're likely to buy more. Similarly, going school shopping when you're distracted can lead to adding things to your cart that aren't necessary. Go shopping with a plan and when you're focused so you can look out for discounts and process each of the purchases you're making.
Pack your things immediately after you purchase them.

After you buy supplies, start to pack immediately. Packing can act as a vetting process for dwindling down any excess things. Start to pack based on priority: things like bedding, lighting and school supplies should go first — end with decor and furnishing items. If items don't fit, they're likely not essential. The earlier you pack, the more likely you're able to return these items.
You're all ready for college! Not to be all Dr. Seuss-y, but you are off to great places. And now, with this guide, you will be well-prepared for anything college throws at you. On top of that, you'll have some extra money from all the discounts provided. If you forget anything, OfficeSupply.com has a great selection of school supplies and you can save using these discounts and coupons.
We hope that you found this blog helpful. Our content is not intended to provide educational or financial advice. For specific advice about your unique circumstances, consider talking with a qualified professional. Capital One Shopping does not endorse or guarantee any information or recommendation listed above.