What to Do With Old Books (+ Printables)
October 8, 2020
Some of the merchants listed in this blog pay us a commission when you make product purchases using the links we provide.
Whether you're a proud bibliophile or you haven't picked up a book at all this year, you probably still have plenty of old books collecting dust.
Arranging them by color and creating a beautiful background for your Zoom meetings is one option, but why not try selling them and recouping some of what you paid for them — or swapping them with friends and loved ones? Here are some ideas of what to do with old books:
Sell your books in person to places like Half Price Books or your local bookstore, or go online and hunt for the best offer.
Donate your books to local libraries or nonprofits that distribute books to veterans, prisoners and others who need them.
Recycle your old books. (Learn more about which books are accepted below.)
Host a virtual book swap with your friends and receive new reads for free!
Where to Sell Used Books
How much you can get for your old copy of

To Kill a Mockingbird

or your pocket-sized

Webster's Dictionary

depends on a lot of factors: the book's condition, whether it's still in print and has its dust jacket, and how badly other people want it. Here are some popular places to sell used books:
Barnes & Noble:

The national bookseller

buys back used textbooks as long as you have at least $10 worth of books to sell. (

Editor's tip:

When it comes time to restock your book shelves again, check out these

Barnes and Nobles coupons and deals.)
BookFinder.com:

The

online search engine allows you to enter a book's International Standard Book Number (ISBN) and see different book buyers' offers.
BookScouter:

Similarly to BookFinder.com, you can enter a book's ISBN, and

BookScouter will compare offers from more than 30 buyers with every search.
BooksRun:

If you have college textbooks sitting around that you thought you'd read again but never got around to, try selling them on

BooksRun. You can ship your textbooks for free and receive your payment within four days.
Decluttr:

The app allows you to scan the barcodes of books and textbooks and receive instant appraisals. Then, pack your books up and ship to

Decluttr for free. (

Editor's tip:

Decluttr also buys smartphones, DVDs, games and even LEGOs.)
eBay:

Have some old

National Geographics

sitting around? Try appealing to collectors on

eBay.
eCampus:

You can let

eCampus sell your textbooks and other books online. You'll receive your payout directly, or you can become a marketplace seller and sell your books directly to buyers. (If you become a seller, eCampus will charge a 15% commission on sales.)
Half Price Books:

If you live near one of these stores, take your books and magazines to the counter and receive a

speedy cash offer. (

Editor's tip:

Half Price Books will also pay you cash for movies, comics, games, electronics and certain collectibles.)
Powell's Books

: The Portland, Oregon-based bookseller allows you to enter your books' identification information, receive instant estimates and ship them off for free.

Powell's Books requires you to sell at least seven books at a time.
Your Local Bookstore:

Many local bookstores will pay you for your used books. Bring in a whole bag of them, and some might pay you by the pound.
If you're more of an e-reader, you can send your old Kindle back to Amazon, and the company will give you a gift card equal to the value of your Kindle and a 20% discount on a new one. (

Editor's tip:

Need a new book lamp or a comfy chair for your home library? Check out these

Amazon coupons and deals for more potential savings on whatever you need.)
Where to Donate Used Books
If you're not interested in selling your books — but would rather not see your book about ancient basket weaving practices end up in the trash — you might consider donating your books. Here are plenty of possible options, whether you want to donate books overseas or support your local library:
Books For Africa:

This organization has shipped more than 48 million books to African students since 1988. Mail your books to the

Books For Africa warehouse in Georgia and consider making a donation since it costs about 50 cents for the organization to mail each book overseas.
Books For Soldiers:

The

Books For Soldiers database allows you to browse book wishlists from service members overseas. You can then send personalized care packages with your gently used books directly to these service members.
Books Through Bars:

Have a few extra dictionaries or puzzle books sitting around? Donate them to

Books Through Bars, and the organization will send them to prisoners in seven states. While dictionaries and other reference and activity books are in high demand, all kinds of other books are accepted as well!
Children's Book Project:

The San Francisco Bay-area organization provides children's books to shelters, schools, daycares and community centers. Check out what types of books the

Children's Book Project needs.
Goodwill:

In addition to accepting clothing donations,

Goodwill also accepts books, CDs, DVDs and games.
Kids Need to Read:

You can mail in your kids' old books to

Kids Need to Read in Arizona, and the organization will send them to underfunded schools, libraries and other programs across the U.S.
MagLiteracy:

The organization collects gently used magazines and comic books and distributes them to families living in poverty. Email

MagLiteracy to describe what types of materials you'd like to donate.
Operation Paperback:

The national organization has shipped more than 2.9 million books to service members overseas since 1999. Become a

volunteer shipper, enter the genres of your old books sitting around at home, receive customized shipping labels based on service members' interests and send off your books.
The Salvation Army:

You can drop off your old books at a

Salvation Army store or schedule a free pickup from your home.
ThriftBooks:

In exchange for a box of clean books dropped off at one of six

ThriftBooks locations across the country (in Atlanta, Chicago, Dallas, Phoenix, Portland or Reno), you can receive a $10 store credit. (

Editor's tip:

Also check out these

ThriftBooks coupons for potential savings on the store's massive inventory of 13 million titles.)
Your Local Library:

Your library will typically choose between keeping your books in its collection or selling them to raise funds — both options support your community.
Looking for other ways to support your community with your old books? The American Library Association recommends reaching out to local theaters who can use books for stage props and caregiving establishments like children's hospitals and nursing homes.
Where to Recycle Books
If you don't sell or donate your old books, you should at least recycle them so that they don't end up in landfills. The Environmental Protection Agency estimates that paper products made up 13% of landfill material in 2017.
Every community is different, but, in most cases, you can recycle paperback books and magazines in the same way that you would recycle paper at home.
In the case of old magazines, you don't have to remove any ads or additional materials inside. You also don't have to remove the staples since those are typically removed during the recycling process. However, if the magazine came in a plastic bag, you should remove that bag and recycle it separately.
Importantly, most recycling centers won't accept paperback books and magazines that have water damage or browned pages. Instead, you should throw these materials away with your trash or repurpose them in other ways.
Some local recycling centers accept hardcover books. In most cases, however, you will need to remove the cover and the binding since those contain glue and other non-recyclable materials.
Set Up A Little Free Library
Little Free Libraries are wooden boxes that you build outside your home and stock with books that you want to give away. Others in your neighborhood are encouraged to take a book that interests them and also leave a book in your library or return one.
There are more than 100,000 such libraries across the world, according to the nonprofit Little Free Library. You can buy a Little Free Library kit — typically for a couple hundred dollars, depending on the size and building materials. However, you can also make your own and quickly set up a mini library in your community!
All you really need is a box made of wood or some other sturdy material, some old books and a creative sign encouraging others to participate in your book swap.
In addition to helping you give away some of your old books and providing you with new reading materials in return, these libraries can also create a closer community.
According to a Little Free Library survey, 73% of people who maintained one of these libraries or who had used one in the past said that they met more neighbors because of the library. Additionally, 92% of this same group said that neighborhoods with these libraries felt friendlier.
To help you build a deeper connection with your community, why not track where your books have been?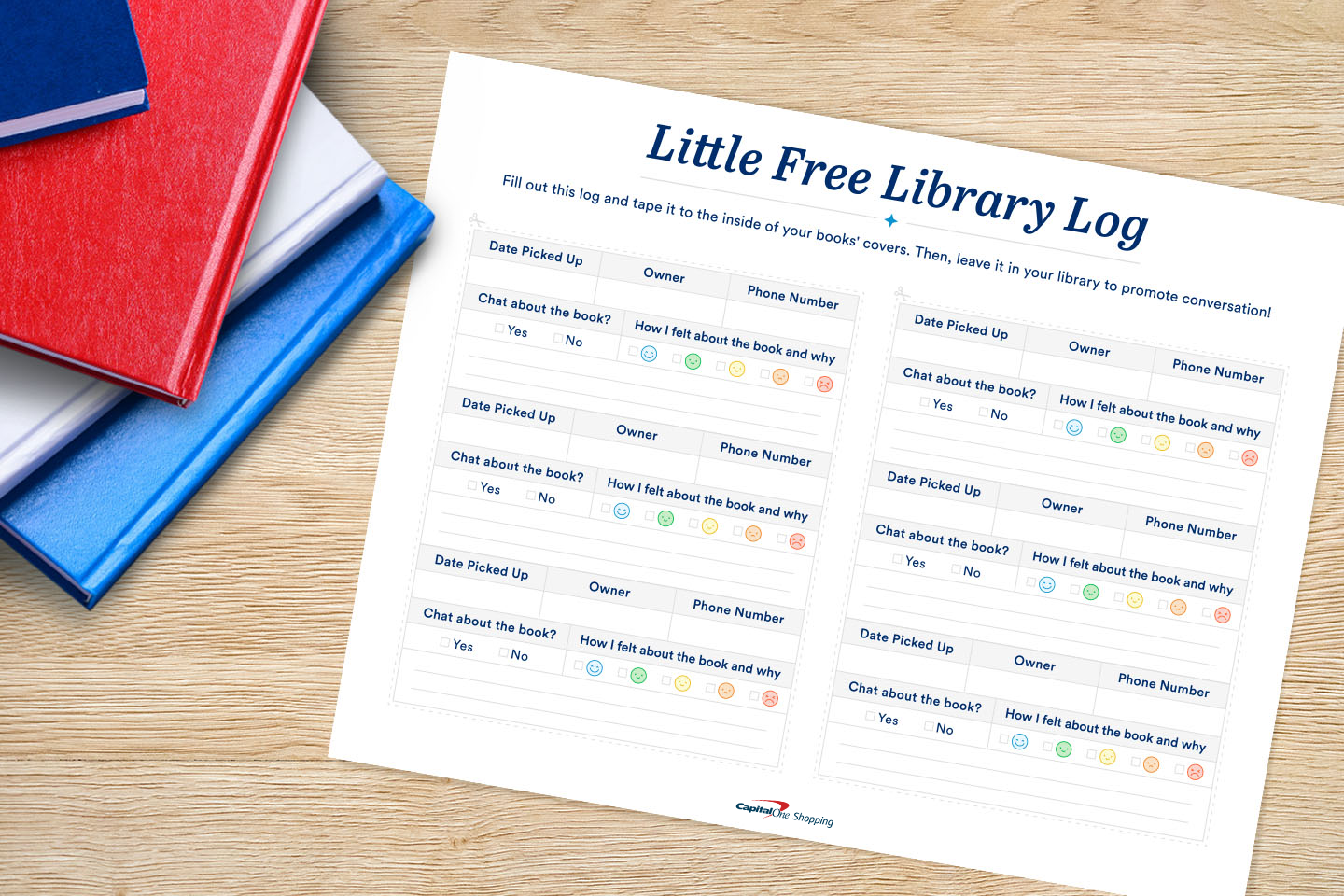 Create a record of where your books end up. Start by filling out your name, your contact information (if you'd like), your rating of the book and whether you'd be open to future readers of the book contacting you to talk about it.
Then, tape the log to the inside cover of your books and let others fill out the sheet with their opinions. If you're lucky, the book's new owner will pass the book onto someone else who will also fill out the log.
Host a Virtual Book Swap
Maybe you have a book that your best friend has been eyeing for some time, and you two could arrange a trade. Try hosting a virtual book swap with your friends and loved ones!
It's just like a holiday Secret Santa swap. All you have to do is round up a group and have everyone fill out their book preferences on these printable wishlists. Then randomly redistribute the wishlists so that everyone receives someone else's wishlist.
Next comes the fun part! Everyone finds old books in their home that match the preferences on their assigned wishlist and mails their books to the wishlist owner.

(Editor's tip:

Check out these

USPS coupons for potential savings on shipping costs.)
Chances are, you're not going to reread that book you said you would — no matter how good it is. Do yourself a favor and clear the clutter! Then, when you're ready for some new books and shelf adornments, check out these AbeBooks deals for potential savings on vintage posters, maps, comic books, photography and so much more.
We hope that you found this blog helpful. Our content is not intended to provide tax or financial advice. For specific advice about your unique circumstances, consider talking with a qualified professional. Capital One Shopping does not endorse or guarantee any information or recommendation listed above.