What to Do With Old Clothes to Save Money (+ DIY Printables)
June 1, 2020
Some of the merchants listed in this blog pay us a commission when you make product purchases using the links we provide.
The average American household spends almost $1,900 per year on clothes, according to the Bureau of Labor Statistics.
That's a lot of clothes, but where do all the old clothes go to make room for the new ones? An informal study found that British women wear their clothes an average of seven times before tossing them in the trash. In China, that number is three, according to the Wall Street Journal.
In extreme cases, some clothes are worn only once before they're banished to the far corners of the closet to collect dust or simply thrown away. That's a lot of money and environmental resources wasted. (It can take 2,700 liters, or about 713 one-gallon jugs, to produce the cotton needed to make one shirt, according to the World Resources Institute.)
So what to do with old clothes you probably won't wear anymore? Here's a guide to the best ways to sell, donate or trade your old clothes.
Or, if the clothes are too worn to donate or sell, try upcycling your clothes. Skip to a number of DIY printables for creatively using spare shirts, socks, pants or anything you have lying around.
12 Places to Sell Old Clothes Online
It can be satisfying cleaning out your closet and making money in the process. Several online marketplaces make it easy to find your old clothes a new home.
Before you begin, make sure you can take high-quality photographs of your clothes. Also, remember to be honest about any rips or other defects to potential buyers online. The more work that you put up front in telling potential buyers exactly what you're selling, the faster you can clean out your closet. Check out these excellent options.
ASOS Marketplace: Tap into what ASOS describes as a network of "twenty-something fashion lovers." If you have at least five items to sell that are vintage (defined by the company as older than the year 2000), you can set up a boutique. Note that ASOS takes a 20% commission on sales. Also, check out these ASOS coupons if you're in the market for new pieces.
Buffalo Exchange: Sell your clothes at your local Buffalo Exchange store or request a mail-in bag. You can receive 50% of the selling price as store credit or 30% of the selling price through PayPal or Venmo.
Crossroads: Drop off your old clothes at your local Crossroads store or request a mail-in bag. You can receive 50% of the selling price as store credit or 30% of the selling price in cash.
Depop: See what clothes your friends are liking, buying and selling with this online marketplace that focuses on community. The company collects a 10% commission when your clothes sell.
eBay: See how much your old clothes will sell for on eBay. The company collects a 10% commission on clothes that sell for less than $100. Also, check out this page for eBay deals.
Facebook Marketplace: Avoid paying commissions altogether and list your old clothes on Facebook Marketplace.
Mosh Posh: Sell designer bags, wallets, jewelry, clothes and shoes on Mosh Posh. The company offers between 50% and 80% of the selling price of handbags, wallets and jewelry and 50% of the selling price of clothes and shoes.
Poshmark: Snap some photos directly from your phone and sell your closet with Poshmark. The company collects a $2.95 commission on sales less than $15 and a 20% commission on sales that are $15 or more. Poshmark also provides expedited shipping at a flat fee of $7.11.
Refashioner: Look to Refashioner if you have vintage clothes or a couple of unique pieces in your closet. The company invites buyers to get to know the story behind sellers and their clothes.
The RealReal: Aim to sell any luxury clothes, watches, home decor and other accessories sitting around within 30 days. Earn anywhere from 40% to 85% of the selling price and receive support from The RealReal team.
ThredUp: Clean out your closet very easily with ThredUp. The company will send you a bag to put your old clothes in. After you send it back, ThredUp will sort through the clothes, photograph and list them and ship them out to buyers. You can receive cash or store credit for popular retailers, with payouts of anywhere from 5–80% of the selling price, depending on how high the selling price is.
Tradesy: Receive a free shipping kit and sell your designer clothes and accessories from home. The company collects a $7.50 commission on sales less than $50 and a 19.8% commission on sales that are $50 or more. Also, check out these Tradesy Coupons for when it comes time to add something else to your wardrobe.
6 Manufacturers that Pay for Old Clothes
Instead of selling your old clothes on an online marketplace, you can be paid for giving them back to the manufacturer in some cases. Typically, the manufacturer will either donate the clothes to a nonprofit or re-sell them so that they don't wind up in a landfill.
Eileen Fisher: Receive a $5 gift card for every Eileen Fisher item you return in any condition through the Waste No More program.
H&M: Drop off a bag of old clothes (any brand and any condition) at a local H&M store and receive $5 off your next purchase of $30 or more.
Levi's: Donate denim (any brand) to a local store or outlet and receive $20 off a single item. Also, check out these Levi's coupons for additional savings.
Madewell: Bring in an old pair of jeans (any brand), and Madewell will partner with a nonprofit to turn it into housing insulation for communities in need and give you a $20 discount on new jeans. Check out these Madewell coupons for other savings as well.
Patagonia: Through the Worn Wear program, receive up to $100 in Worn Wear credit when you trade in your used Patagonia gear.
The North Face: Earn a $10 reward on your next purchase of $100 or more when you drop off used footwear and apparel (any brand and any condition) through the Clothes the Loop program. Also, check out these The North Face coupons for savings on new coats and outdoor gear.
Donating Old Clothes
As you sift through your closet, you can also donate your clothes to local organizations. You can deduct the fair market value (the price that you would be willing to sell your clothes for and a buyer would be willing to pay for them) from your taxes.
Goodwill provides a guide to determining the fair market value of your old clothes. If you plan to claim a total deduction of more than $500, you'll likely need to fill out a Form 8283, according to the Internal Revenue Service.
Trading Old Clothes: Clothing Swap Party Printable Wishlist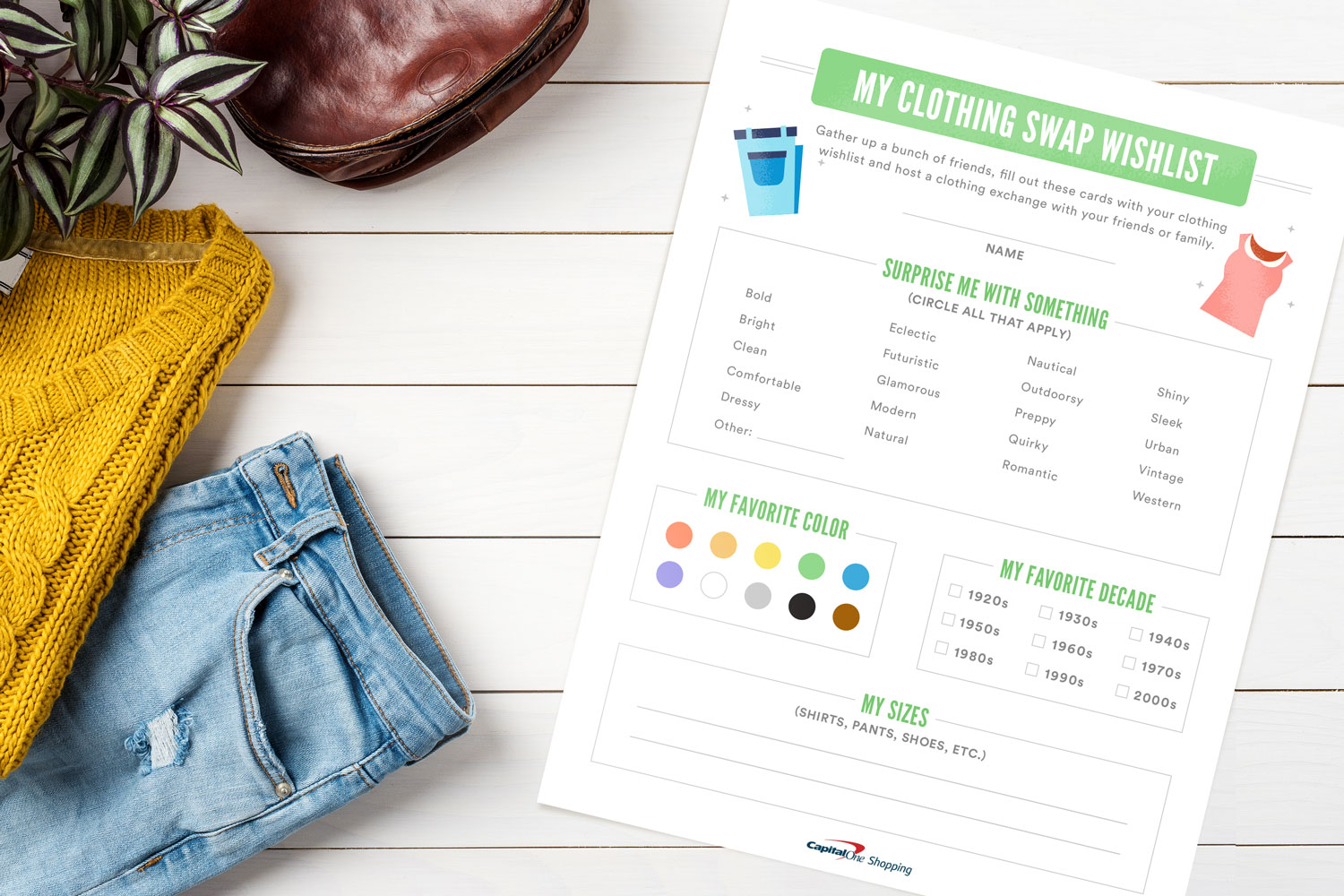 Why not host your own clothing swap party among your friends and family? That could be a great way to clear your unwanted clothes from your closet and snag your friend's sweater that you've been eyeing for some time.
It's simple. Gather a group of friends, have everyone fill them out with their clothing preferences and re-distribute them out to the group randomly. Each person will try to find something in their closet to give away to match their recipient's wishlist. (It's better to give something they want than to host a random clothes exchange!)
You can host an in-person party or have people send their clothing gifts in the mail to maintain the secrecy!
Upcycling Old Clothes: Polka Dot Shoe Printable
Upcycling is the process of recycling or repurposing items so as to produce new items of higher value than the original ones. Applying that idea to clothes, you might transform an old shirt that you no longer use into a tote bag for grocery shopping. Or, you might gather up many old shirts and sew them into a quilt.
Alternatively, you might choose to add decorations or flourishes to your old clothes to give them a facelift. Bleaching patterns onto old clothes is a good way to elevate your wardrobe and have fun while doing so!
One easy way to do that is to dip the eraser of a pencil into bleach and dab a pair of shoes to create a polka dot design.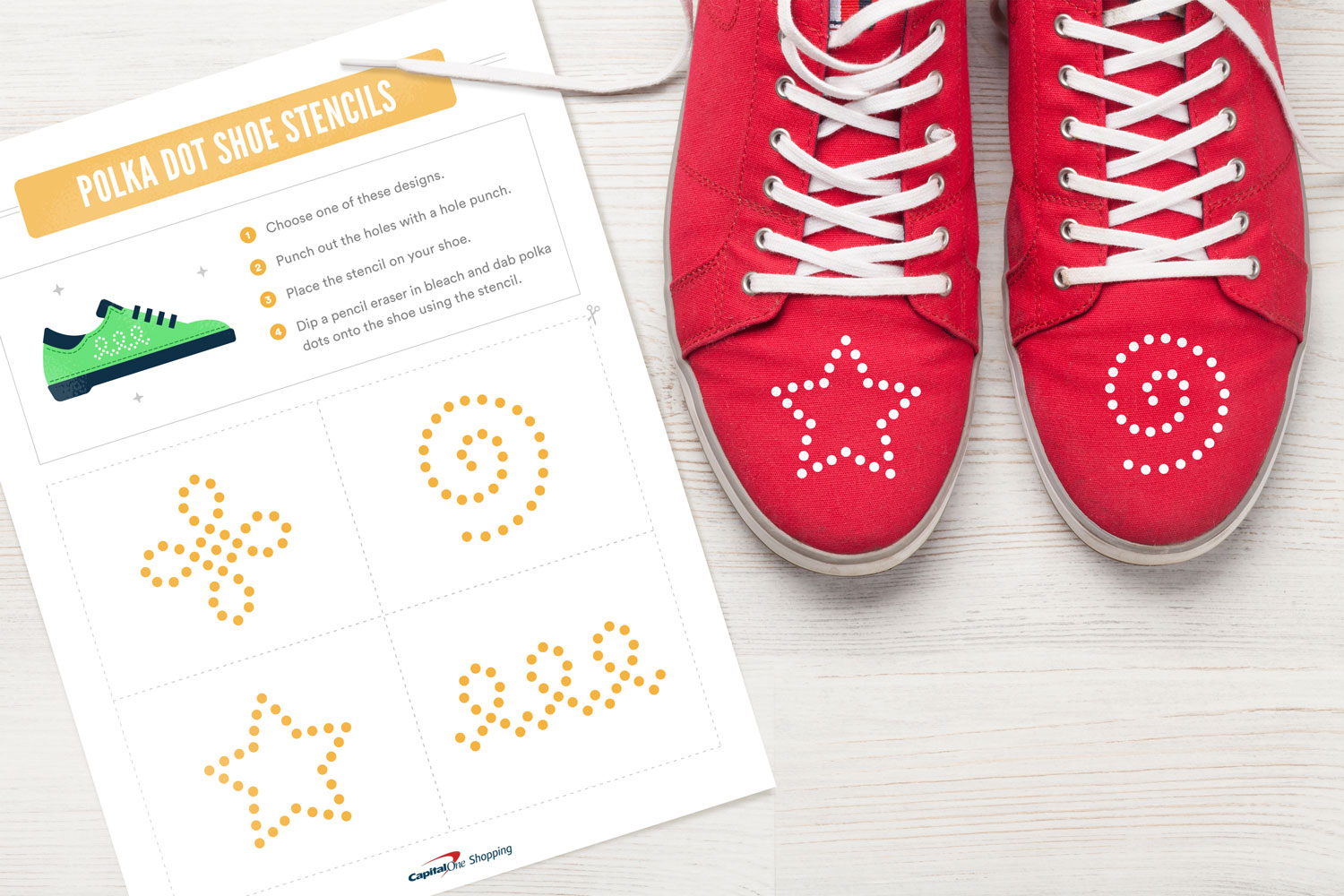 Here are a few other DIY ways to transform your clothes:
Apply squiggly lines of hot glue to the bottom of socks to make non-slip treads.
Dip a pencil eraser into bleach and dab your canvas shoes, shirts or pants to make polka dots.
Attach tape to your clothes, apply bleach to the surrounding areas and remove the tape to reveal interesting patterns.
Stamp patterns onto old clothes with fabric paint.
Glue on jewels or glitter.
Coloring Old Clothes: Natural Dye Recipe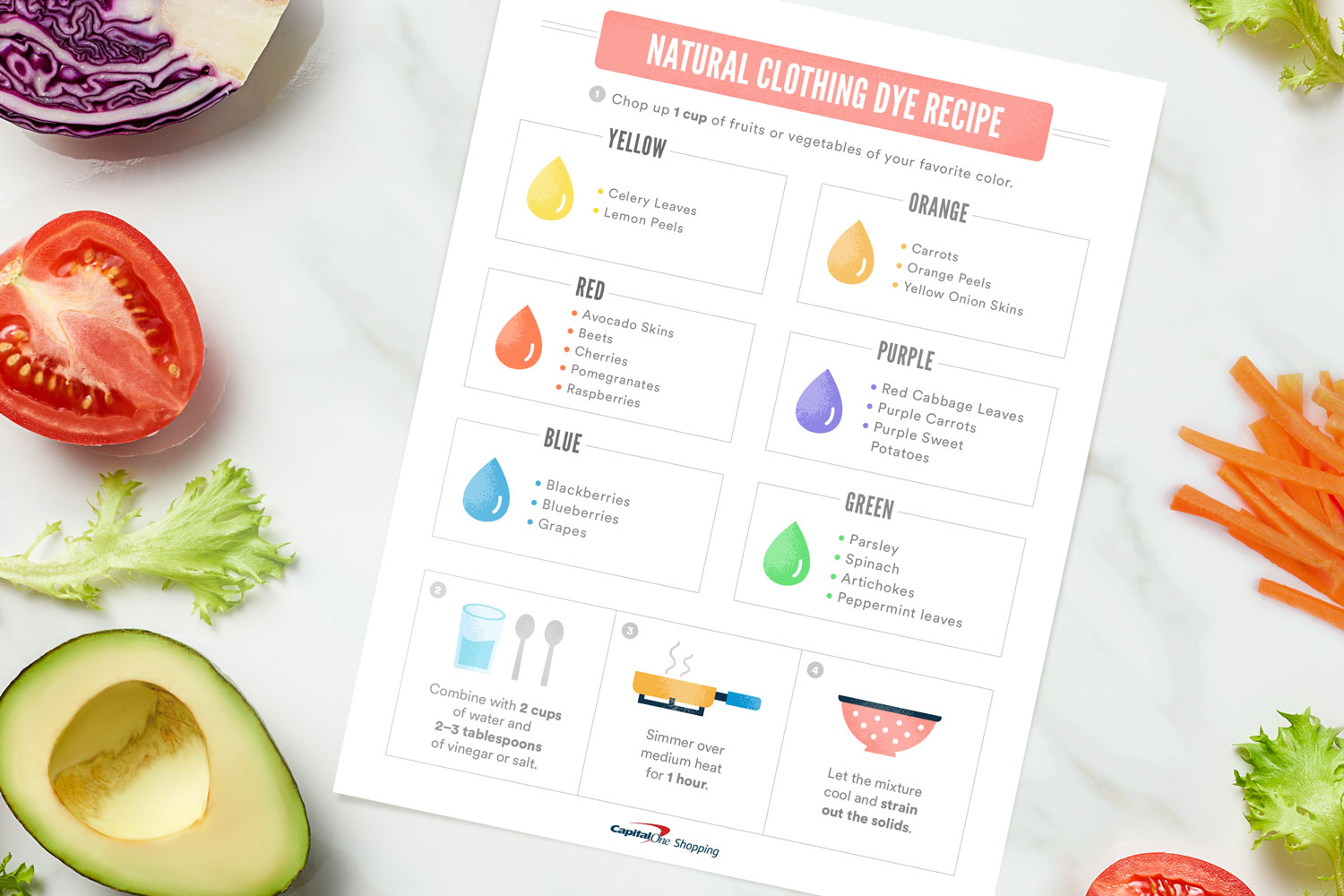 Maybe that old white shirt is graying and you'd rather turn it a vibrant pink color. Luckily, you can turn fruits and vegetables in your kitchen into beautiful homemade dyes. Here's what you could use to achieve different colors, according to The Beaker Life:
Red:

avocado skins, beets, cherries, pomegranates, raspberries
Orange:

carrots, orange peels, yellow onion skins
Yellow:

celery leaves, lemon peels
Green:

artichokes, parsley, peppermint leaves, spinach
Blue:

blackberries, blueberries, grapes
Purple:

red cabbage leaves, purple carrots, purple sweet potatoes
Once you've gathered your ingredients, making the dye is pretty simple. Here's a recipe provided by Better Homes & Gardens:
Chop up one cup of fruits or vegetables of your favorite color and add it to a saucepan.
Add two cups of water and two to three tablespoons of vinegar or salt to the saucepan.
Simmer the mixture over medium heat for about an hour.
Switch off the heat and allow the mixture to cool to room temperature.
Strain the mixture and discard the solid parts.
Before you dip your clothes into the dye, dampen them with water. Then, soak them in the dye for as long as you wish. Finally, let your clothes dry and then iron them on high heat to set the colors on your fabric.
Transforming Old Clothes: Puppy Socks Stencils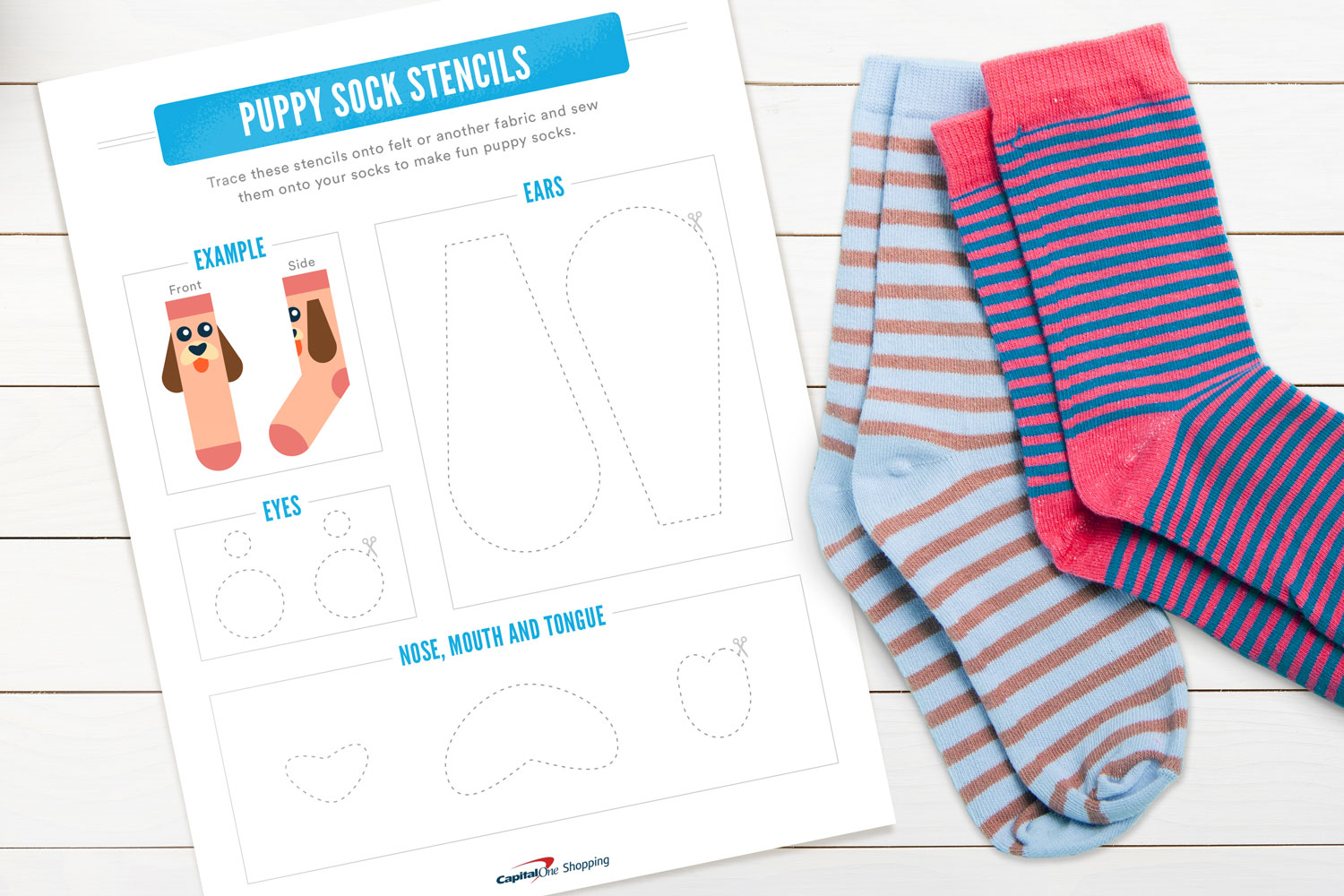 Instantly make your old socks more fun with these puppy sock stencils. Have your kids trace the ears and tongue onto felt or other fabric. Then, glue or sew them to your socks and watch the ears flop around as you walk.
Whether you decide to sell your old clothes online, trade them among friends, bleach or color them, or transform them completely, you'll never ask what to do with your old clothes again. Also, check out these Michaels coupons to pick up some additional supplies for your DIY projects.
We hope that you found this blog helpful. Our content is not intended to provide legal, tax or financial advice. For specific advice about your unique circumstances, consider talking with a qualified professional. Capital One Shopping does not endorse or guarantee any information or recommendation listed above.