Highlights. The global gift card market is valued at $899.3 billion and is expected to reach $2.3 trillion by 2030.
The average value of gift cards given to someone else as a gift is $47.91.
51% of American adults have unused gift cards, and the total value of these unspent funds in the U.S. is around $15.3 billion.
1 in 4 people who report losing money to fraud to the FTC said it involved giving numbers off the back of a gift card.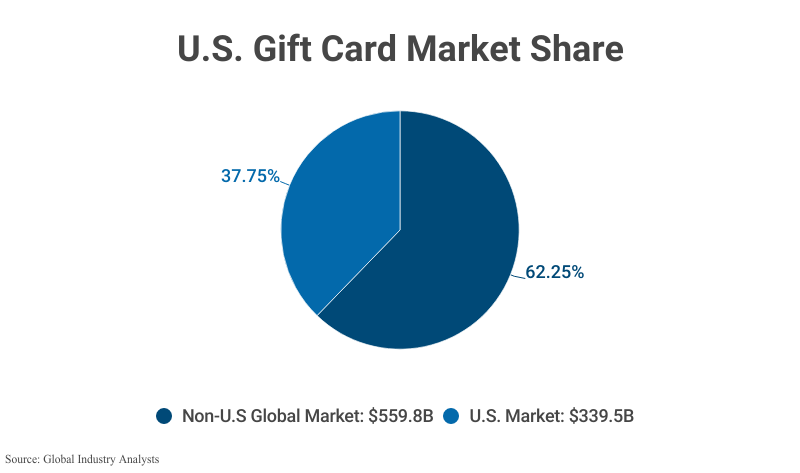 Gift Card Sales Statistics
The United States represents approximately 38% of the global gift card market, with a value of $339.5 billion.
The U.S. gift card market generated $499.4 million in revenue in 2022 and grows 8.2% annually.
Nearly 50% of consumers purchase gift cards because they are convenient.
54% of U.S. consumers buy gift cards as holiday gifts
90% of people consider physical gift cards an appropriate item to gift.
61% of consumers spend more than a gift card's value when redeeming, for an average of $31.75 more than the card's value.
Consumers purchase gift cards for themselves with an average value of $51.93, for an 8.4% higher value than cards purchased as gifts.
Compared to gifting other items, people spend 21.6% less when they purchase a gift card to give as a gift.
Gift cards are common last-minute gifts, with 32% of people having purchased a physical gift card on the same day as gifting it.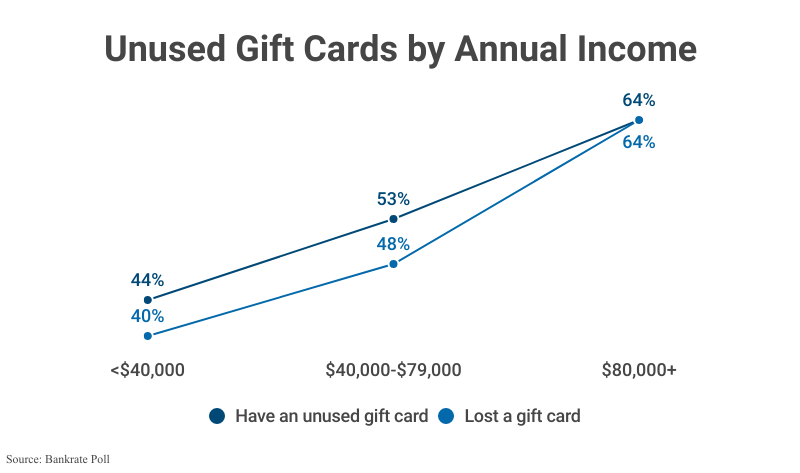 Unused Gift Card Statistics
On average, Americans have unused gift cards totaling $116.
Americans use their gift cards more than in the past, with a 31% decrease in average unused gift card value between 2020 and 2021.
29% of people have had at least one gift certificate expire before redeeming, making this the primary reason cards go unused.
27% of people have lost at least one gift card in their lifetime.
21% of people have had a business close permanently before being able to use their gift cards.
73% of people have held onto a gift card for at least one year after receiving it.
24% of people admit to regifting a gift card, while 9% of recipients have resold a gift card.
Higher-income individuals are most likely to have unused gift cards, with 64% of this demographic reporting unredeemed cards.
Gift card holders in lower income brackets are most likely to use their gift cards, with only 40% reporting unused cards.
76% of consumers use a gift card entirely within one month of receiving it.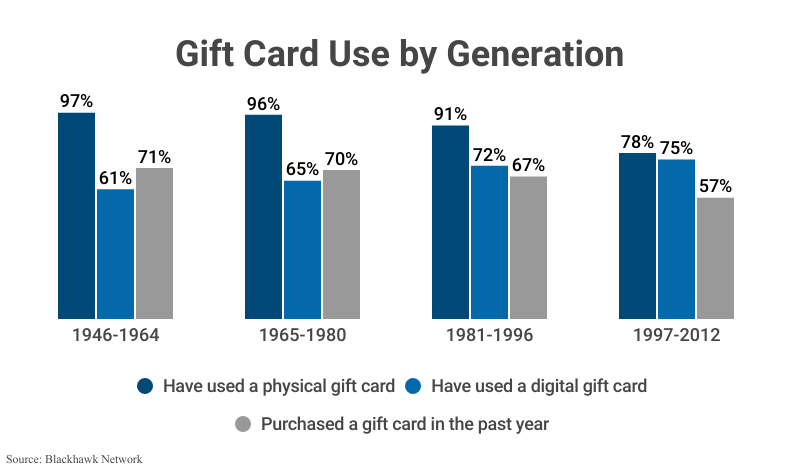 Generational Gift Card Statistics
Consumers born between the years 1981 and 1996 (commonly referred to as the Millenial Generation or Millennials) and consumers born between 1965 and 1980 (commonly referred to as Generation X or Gen X) spend the most on gift cards at around $340 per year.
Millennials are most likely to have unused gift cards, with 56% of this age group reporting unredeemed cards with an average total value of $139.
Consumers born between 1946 and 1964 (commonly referred to as the Baby Boomer Generation or Boomers) spend the least on gift cards during the holiday season, with an average gift card purchase total of $278.
Americans in the Boomer Generation are most likely to use physical gift cards, with 97% reporting utilizing this card type.
75% of Millennials have used a digital gift card, the most of any generation.
Consumers born between 1997 and 2012 (commonly referred to as Generation Z or Gen Z) are least likely to purchase gift cards, with only 57% having bought a gift card in their lifetime.
39% of consumers targeted in gift card scams are 18 to 49, and 28% are 50 or older.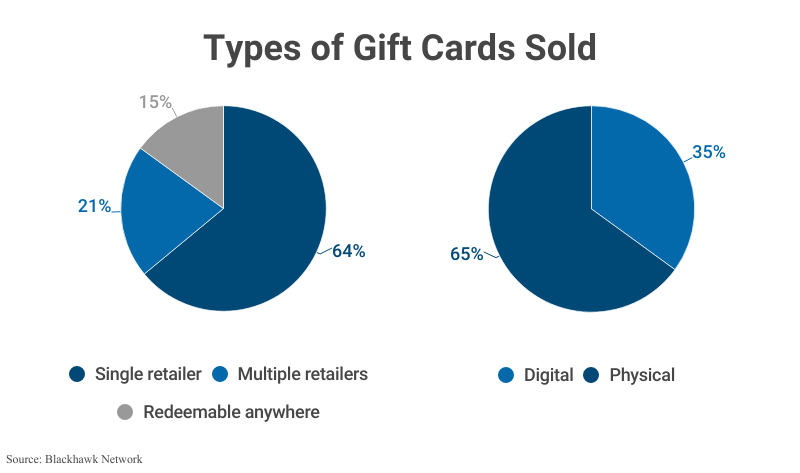 Gift Card Statistics by Type
64% of gift cards purchased are "closed-loop," designated for a specific store, restaurant, or chain, making them the most popular type of gift card.
21% of gift cards purchased are redeemable at multiple retailers.
15% of gift cards purchased are open-loop, such as Visa gift cards, redeemable anywhere.
43% of shoppers who purchase open-loop gift cards do so monthly or more frequently.
51% of open-loop gift cards and 66% of digital gift cards are purchased for self-use.
From 2021 to 2022, people using closed-loop cards as a money management tool increased by 24% and 17% for open-loop cards.
Gift Card Fraud Statistics
Gift card fraud is the most common form of fraud, with 26.6% of victims indicating that money was taken using gift cards or reload cards.
34% of U.S. adults have been targeted by scams seeking payment by gift card.
25% of consumers purchasing a gift card to pay a scammer were warned by a store clerk that their purchase could be part of a scam.
The most common tactic scammers use to get consumers to purchase gift cards is claiming they must pay a fee to claim a large prize, sweepstakes, or lottery at 15%.
23% of consumers in the U.S. have given or received gift cards with no funds on them, and 54% of these people were told that no refund or credit was possible.
Target gift cards represent the highest reported losses to fraud, with victims reporting an average of $2,500 in losses and 30% reporting losses of over $5,000.
The median reported losses from victims of Google Play gift card scams is $1,380, the second most common card used in gift card fraud cases.
From 2018 to 2021, gift card fraud losses grew 364%.
Of the $148 million in reported losses to gift card scams between January and September 2021, 75% represented losses reported by victims who lost at least $5,000.
These data and insights were compiled by the Capital One Shopping team based on publicly available data.
Sources
Related Reports